Disclosure: This post may contain affiliate links, meaning we get a commission if you decide to make a purchase through our links, at no cost to you. Please read our disclosure for more info.
Going out to eat isn't an option everywhere in the US yet. But that doesn't mean that you can't have a wonderful meal at home and create a fun, romantic date night with your significant other.
If you've been stuck inside, maybe you're wondering how to make things extra special when eating at home has been the norm for the past eight months.
But there are a few steps you can take to make a real date night experience. It's all about doing things differently from your everyday routine. Think outside the box. Get out of your comfort zone. Have a theme.
Elevate Your Meal
This is not the time to whip out leftovers – no matter how delicious they might be. Think about your loved one's favorite dish. Or maybe try to recreate the meal you had on your first date. That's romantic!
Date Night in A Box
Try a date night subscription box and get everything you need to make a fun night at home delivered right to your door!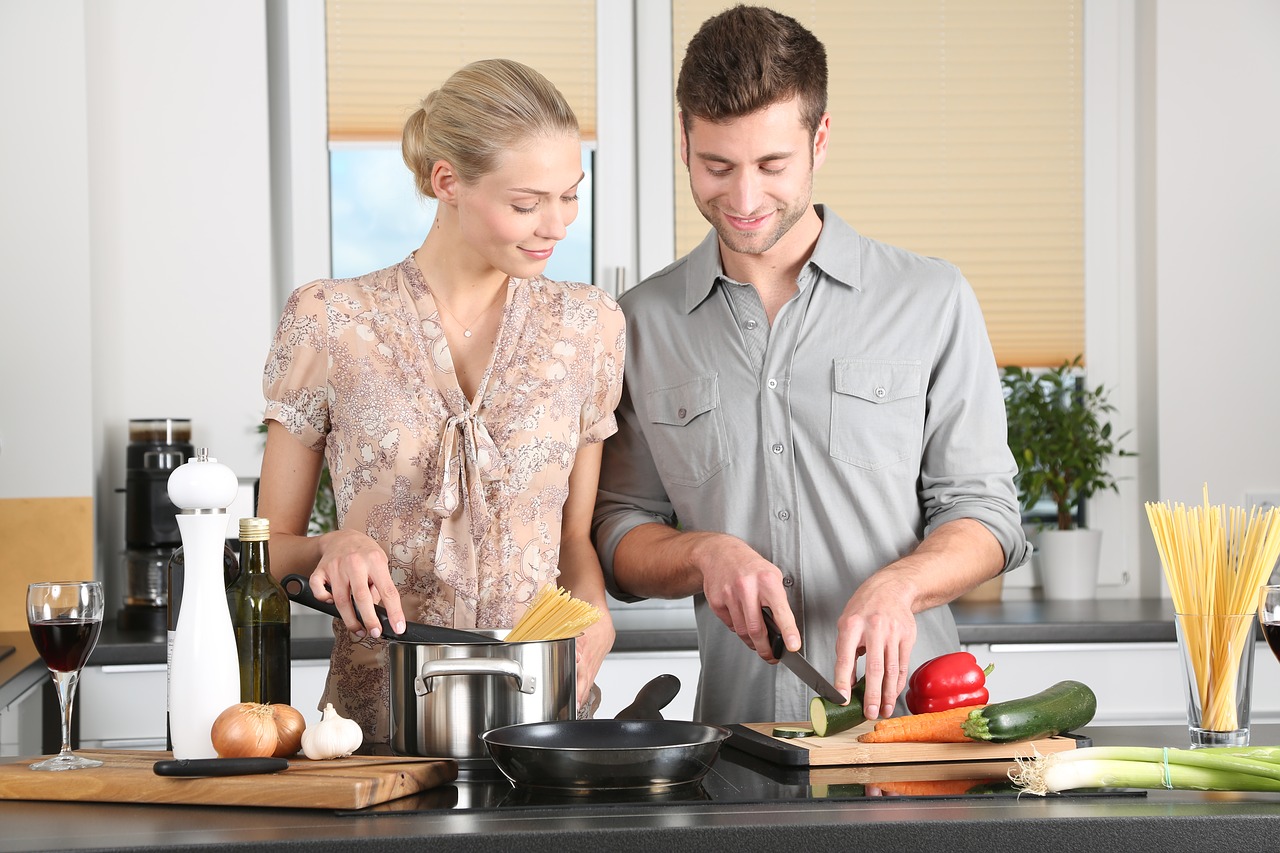 If you've been ordering meal kits and want to use one that's a great start, but try to do something to "chef" it up and take it to the next level. You could add another homemade side dish to the meal kit offering. Or try adding fresh herbs. Or maybe make a sauce to bring it all together.
For example: You have a meal kit with pork chops, roasted potatoes, and broccoli. Okay, maybe you could brine the pork chops and then put them on the grill or stuff them with herbs and garlic. You could add fresh rosemary to the potatoes when roasting them. You could use the broccoli to make a gratin.
Or perhaps, you're trying to relive a first date. Even if that date was at the county fair, serve fair foods (Hot dogs, fried dough, popcorn, ice cream, etc.) and make a totally themed-evening out of it. There's no such thing as going over the top.
Keep It Adults Only
It's not really a date night if the kiddos are involved. Make sure that the kids are not home or do dinner later in the evening at 8 or 9pm when the little ones are in bed. It's hard to feel romantic if your kids are screaming for your attention.
If you were going out, you might also imbibe in an adult beverage. Do something special at home like make a signature cocktail or pop a bottle of champagne. If your sweetie is a beer drinker, maybe pick up a craft beer that they have been wanting to try. Or make up a flight of beers.
If you're not a drinker, you could have bubbly water or a sparkling cider…but drink it out of a fancy glass so it feels special.
Create Ambiance
Candles are always romantic. Break out the good dishes. Set the table to look like a restaurant. Flowers help create a festive and special atmosphere.
Or have your dinner somewhere different – the back patio, the front porch, a picnic on your bed or the living room floor.
Make a playlist of your loved one's favorite songs or music you find sexy. Dim the lights to further create a cool, romantic vibe.
And don't forget to dress up. Get out of those yoga or sweat pants. Get all done up like you're really headed out for a special night.
The bottom line is that with a little creativity and planning, you and your significant other can have a special, delicious, memorable date-night – even at home.