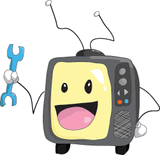 I've mentioned that my cable goes out every time it thunderstorms. Last time, the technician said they'd probably have to dig up the line in the backyard to get the root of the problem. I went with the quick-fix option as this was days before my brother's birthday party that I was hosting and didn't want my yard tore up. And it hasn't went out since, but then again, we haven't had any big storms.
So, my other brother plays football for South Dakota State University*, and I wanted to watch the SDSU vs Iowa State game last night. I called the cable company to upgrade my digital plus package so I'd have access to Fox Sports Central, which they said I was good to go immediately. But I didn't bother to actually check the station until my kids got home from school. It was a no go. I call back and got the usual they-think-I'm-stupid questions. Yes, it's plugged in. Yes, it's turned on… And they can't send anyone out until next week! I needed it fixed by 7 pm! They'd see what they could do.
I was visiting (ok, we were having a drink) with my 84-yr-old grandma (who was recently diagnosed with breast cancer) before the game, when my kids called to say that the cable guy had arrived, and needed someone over 18 there. So, I arrived home at the same time my favorite fireman arrived with an extension ladder to change my smoke detector battery. The Schwans man may have been here as well for all I know. Normal House for Kim chaos.
The poor cable guy had to put up with heckling from my children as his son plays for Norfolk Catholic, big Big BIG rivals of our Pierce Bluejays. Tim, the tool man, heckled me my cable bill may be double or triple next month after that. Turns out I needed a new DVR box, and we were set. The Jacks ended up losing 44-17, boo.
I think we have cable hook-ups in about every room in the house, and we have eight TV's in the house. We have more TV's than people, yet everyone still fights over the remote! Same with computers. Anyway, after the cable guy visit, I didn't bother to check to make sure all the other TV's still worked. I wouldn't have thought I had to. But this morning, the television in my office isn't working!
So I call back and got the usual they-think-I'm-stupid questions. Yes, it's plugged in. Yes, it's turned on… And they can't send anyone out until next week! Sound familiar? Don't they know that is the TV we (ok, I) watch most in this house, and I'm now missing the one episode I wanted to watch on The Tyra Banks Show? I'm sure I would have gotten some helpful advice from Tyra and now may be scarred for life. Ok, end of my sarcasm rant. But, it's so quiet in here, I think I may have to start singing.
But first, I'll leave you with some quotes from my current book read…
It's not premarital sex if you have no intention of getting married. ~ George Burns
I like compliments. But I prefer cash. ~ Anonymous
*SDSU is now part of the Missouri Valley Football Conference, and is scheduled to play Nebraska next year! Too bad my brother graduates this year, as it would have been cool to see him play against the Huskers.