I'm feeling a bit under the weather today, so decided not to make a video for this edition. For one, I don't have that much energy, and two, I wanted to spare you my bleak appearance. So between my trips to the bathroom (I hate vomiting) and nursing my stitched up wrist (read about my mishap here), I'll still keep you up to date on the cool stuff I got in the mail this last week.
Free Sample Playtex Personal Cleansing Cloths from Walmart
Free Sample Aveeno Positively Ageless Lifting & Firming Night Cream $1.50 off Coupon
Free Sample Garnier Nutritioniste Skin Care
I took a picture of these last two samples packaging (as if I didn't have anything better to do, but) because the models look strikingly like the same person from their eyebrows to their laugh lines.  The only difference in the makeup and lighting.  And I don't think Aveeno and Garnier are from the same manufacturer?
I got more Free Address Labels and a Personalized Notepad from March of Dimes – after donating to them, they send me these packages practically every month.
I received my iolo Technologies $10 rebate and a few Free Catalogs…
Free Get Organized Catalog (cool stuff)
Free American Girl Catalogue (my girls like this one)
Free SkinStore Catalog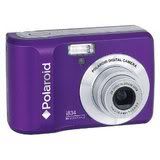 I also received what seemed like a massive amount of bills this past week! One of my daughters, Macy, is quite the socialite and went way over her cell phone minutes to the tune of $200. Plus the medical bills never seem to end, and likely won't anytime soon as Mallory needs her teeth fixed.
Mallory has been doing a lot of babysitting this summer and saved enough money to buy herself a new Polaroid 8.0 MP Digital Camera (in purple), and loves it!  I wish Miss Macy would start babysitting more to pay her cell phone bill!
Have a good week!  I hope mine gets better!