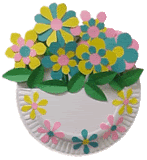 I remember when I was young and my mother helped me make May Day baskets out of green strawberry containers (I don't think they make those anymore?) and pipecleaners, filled with popcorn and candy. One year we even used Little Debbie snack cakes.  Then we'd drive around placing them on friends' doorsteps, ring the doorbell and run.  What fun.
I had good intentions of making May Day baskets for my Kiwanis group today at lunchtime, but was busy with work, so just brought the Easter basket we still have sitting here filled with Easter candy.  So, then I had good intentions of helping my daughters make some baskets up after school with all the leftover Easter candy.
But after school was chaos, as my cousin dropped off her twins while she got her hair cut.  Man, I forgot how demanding twins are as babies!  Plus I had to make four dozen cookies for our school's snack day tomorrow.  Those leftover Hershey's kisses from the Easter candy came in handy for peanut butter cookies* (recipe below).
Plus add on the normal soccer practice, track practice, homework, supper, etc., we didn't get around to making any May Day baskets.  But we did have two of the other families in the neighborhood ring our doorbell and run leaving behind goodies in plastic cups. God Bless more organized mothers.
*Peanut Butter Star Cookies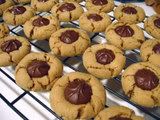 1/2 c. margarine
1/2 c. brown sugar
1/2 c. white sugar
1 egg
1/2 c. peanut butter
2 TBsp. milk
1 3/4 c. flour
1 tsp. soda
1/2 tsp. salt
We always at least double the batch, if not triple or quadruple!
Roll dough into inch sized balls and roll in sugar. Bake at 350 degrees for 8 minutes. Upon removal from oven, press in chocolate star or candy Kisses (we prefer stars).
Variations – For plain peanut butter cookies, roll in balls and use fork to imprint criss-cross lines on top. For another fun option, cook un-sugared balls in mini-muffin pan and press in mini Reese's peanut butter cups upon removal from the oven.