Disclosure: This post may contain affiliate links, meaning we get a commission if you decide to make a purchase through our links, at no cost to you. Please read our disclosure for more info.
As soon as we turn the calendar sheet for December, we start thinking about the last days of the year, how we will decorate the tree, what gifts we will make and what we will prepare for the Christmas meal. Because it's the time when we feel good around our beloved ones, we are more relaxed and forget about any other concerns, we want the winter holidays to last as long as possible.
That's why we start Christmas shopping and decorations long before the 25th of December. In fact, throughout the whole month of December it's nice to have Christmas decorations, candles, elves, little Santa Claus, shiny stars all over the house.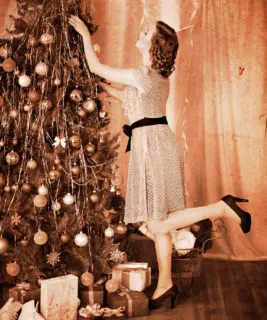 Ceramic Decorations
Do you love vintage style and would you like to get inspired when you decorate your Christmas home? Here are some ideas to help you get started: silver blue, black, brown, red and gold complemented by a warm color such as pink are the shades you need when choosing vintage decorations.
Each house has its own style, but some things are essential: the dining table where you're going to spend most of the time with your family and friends, window and house decoration and of course, the Christmas Tree.
For the dining table there are lots of special decorations: table cloths and winter-themed towels, candles and candle holders, plates and cups with a special winter design.
On the dresser or on the fireplace shelf in the bedroom you can place a few simple figurines, a jar of candy and some scented candles that have a festive effect and thus can improve the atmosphere in this room. Certainly, such objects that are related to the specifics of the Christmas holiday will be appreciated by children and adults alike.
Charming Ribbons
Some trends just never die, the 80's and 90's are in again. People are actually looking to decorate their houses with vintage Christmas décor, some with the ones they grew up with. Retro ornaments, ceramic figurines can be placed under your Christmas tree or hanged.
If you want to celebrate completely differently, all you have to do is make a series of vintage decorations. Who would have thought such old and nice things could be this useful?
For example, from an old frame, you could do an ornament. How? Just add some Christmas ribbon, tiny red, silver or gold globes, a red bow to match the globes and done. For maximum effect, you can also put fir branches.
The fir crown, which we hang on the front door is the first element of decoration that welcomes us when we enter a house. You can choose one that is made of natural fir at home. You will need fir branches, red bows, fir cones, silver paint spray, globes, and other small decorations.
Other tips:Create some napkin rings made of cedar roses. Spray on each cone a silver or gold spray, and then place two ribbons. Break into pieces a few cd-s and put them onto a piece of gold material, then attach it to a globe. You can choose which colors you like most. Create snowman from bottle caps. Place 3 caps vertically, glue them together and add a small ribbon to each. Paint the nose and eyes with a marker.
Vintage Christmas Toys
You'll have to look in your grandma's basement, or of course, shop for these amazing and antique figurines in thrift stores.
Vintage look Christmas toys and decorations are various and still so desired: wooden rocking horses, Rudolph stuffed animals, Santa Claus in different shapes, baby dolls, small lightening houses. If you still own these toys, you probably know they value a lot.
You can create a corner and decorate it with these vintage figurines or just place/hang them around your house. Use a lot of lace for wrapping gifts and place around the fir various forms of lanterns or old-fashioned candle holders.
Vintage German Christmas gifts are the best, anyone who had those in their childhood are going to appreciate them a lot.
If you have a fireplace, decorating it with Santa's handmade socks will be the inspiration for a vintage "wow" factor in your home.
Retro Christmas Posters
The style of the 50's, 60's and 70's undoubtedly expresses youth, the desire to experiment an idealism. The walls can be decorated with retro Christmas posters, comics posters, retro signs or photo frames. Christmas posters can have beautiful Christmas wishes or paintings that express the winter season.
The most vintage is the original Coca-Cola advertising poster featuring Santa Claus. This is the slogan for Coca-Cola since 1976.
If you are more creative, just take some holiday cards with different prints, winter pictures, messages and mix them on a wall and make your own poster. Add some Christmas tree lights and the effect will look more sophisticated.
Newspaper prints can also make great vintage Christmas decorations. It can be used as wallpaper or gift wrapping.
Vintage Pillow Covers
Vintage décor items are extremely beautiful and fit the atmosphere of Christmas perfectly. In the vintage style, you can already use decorations from previous years to add something new, handmade or bought from the market.
The Christmas market is also a great idea where you can find decorations for the living room or bedroom of all kinds and colors. Christmas-themed fluffy beds and pillows, with different reindeer-shaped covers, Santa Clause or snowman. Most of them are probably handmade and the chances to find vintage pillow covers are very big.
If you are a vintage-lover, adding a charming retro feel to your home will be more than expected. That adorable rustic and charming ambiance will embrace every person with a magical aura.
Ideal in an old house, the elegant Christmas decorations, reminiscent of aristocrat opulence, will successfully complete the vintage atmosphere. Use a palette of golden colors and include simple, delicate and elegant decorations in the Christmas tree. An elegant vintage Christmas matches perfectly with a home where there is also a fireplace, chandeliers, candlesticks, sofas and other pieces of furniture and decorative objects that send to mind a sumptuous past.