My son moved to Omaha today to work for the summer before moving to Lincoln in the fall to attend the University of Nebraska-Lincoln.  He is going to stay with his grandma who lives in Omaha. He's only been gone an hour, and the thought of him being gone makes me miss him already. I think it's the whole "my son is now an adult" syndrome kicking in.
We decided that he would use some of his graduation money to invest in a new laptop for college. Of course, I did my research for the best bang for the buck, and came up with the  Toshiba – Satellite Laptop with Intel® Pentium® Dual-Core Processor T3400 for only $399.99 from Best Buy…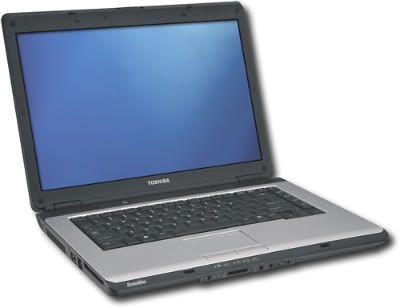 I browsed several techie forums, as those contributors not only know more about computer specs than me, but they also know a good deal when they find it! This laptop features everything that my son will need and more….
Intel® Pentium® Dual-Core processor T3400
667MHz frontside bus, 1MB L2 cache and 2.16GHz processor speed.
2GB PC6400 DDR2 SDRAM expandable to 4GB
Multiformat DVD±RW/CD-RW drive with double-layer support
15.4″ WXGA TFT-LCD widescreen display
250GB Serial ATA hard drive (5400 rpm)
Mobile Intel® Graphics Media Accelerator 4500M
128MB – 1342MB dynamically allocated shared memory.
Built-in stereo speakers.
4-in-1 bridge media adapter
3 high-speed USB 2.0 ports
Built-in Atheros high-speed wireless LAN (802.11b/g)
Built-in 10/100 Mbps Ethernet LAN with RJ-45 connector
Microsoft Windows Vista Home Basic Edition operating system
Toshiba DVD Player and Disc Creator Software Included
Microsoft Office Professional is only a 60-day trial version, but when we toured the UNL campus, our tour guide said that students are able to buy Microsoft Software at a deep, deep discount at the campus bookstore.
We ordered the Toshiba Satellite Laptop online last night from BestBuy.com.  We chose the instore pick up option, as there is a Best Buy in Omaha that he can pick it up from today.  That not only saved shipping costs ($24.99 standard cost), but shipping time as well!
Good luck Taylor, I love you!