Disclosure: This post may contain affiliate links, meaning we get a commission if you decide to make a purchase through our links, at no cost to you. Please read our disclosure for more info.
If you're thinking about drilling a new well on your property, you'll know it can be expensive upfront, even if it will pay for itself in the long run.
Fortunately, there are a variety of financing options available to you. By exploring all of your options and choosing the one that best suits your needs, you can get the money you need to get your project off the ground.
Here are some tips for getting financing for a new well.
Estimate the Full Cost of the Well, Including Pumps and Water Filters
Household water well systems are made up of many parts. So when looking at financing options, it's important to have a realistic estimate of the full cost of your project. This includes the cost of drilling the well and any extras like pumps, tanks, piping, casing, and water filtration.
Most drillers will also be able to quote you for costs associated with the well itself. But you'll need to speak to a local plumber or filtration expert to estimate costs for water quality testing and filtration recommendations.
A professional water test may cost a couple of hundred bucks, following which you'll be able to decide what kind of filtration or softener you need. If your test shows you have high iron levels in your new well, you'll need a system that can address that. For example, SpringWell's air injection filter for well water is recommended by Home Water Research for removing ferrous and ferric iron up to 7 parts per million (PPM) and costs about $1500.
Once you have a full idea of the cost, it's time to consider an appropriate financing program.
Talk to Your Local Water District or City Government About Financing Options for Drilling a Well
Many local water districts and city governments offer financing options to help offset the cost of drilling a well, especially in rural areas. These options may include low-interest loans or grants. In addition, there are a number of tax breaks and rebates that may be available to those who drill a well.
Contact your local water district or city government office to find out what's available in your area. For example, Santa Cruz County offers grant programs that support residents with repairing and replacing wells.
Look Into State and Federal Programs That Offer Assistance for Drilling a Well
In addition to local initiatives, a number of federal and state programs offer financing for drilling private wells.
The United States Department of Agriculture (USDA) offers a number of loan programs that can be used for well drilling. These programs are available to provide loans to both rural and urban homeowners and offer a variety of financing options.
The Environmental Protection Agency (EPA) also offers the Water Infrastructure Finance and Innovation Program that can be used for well drilling. This program provides loans at low rates to municipalities and other public entities for the construction of water infrastructure projects, including wells.
These programs typically have different eligibility requirements, so it's important to do some research to see if you qualify.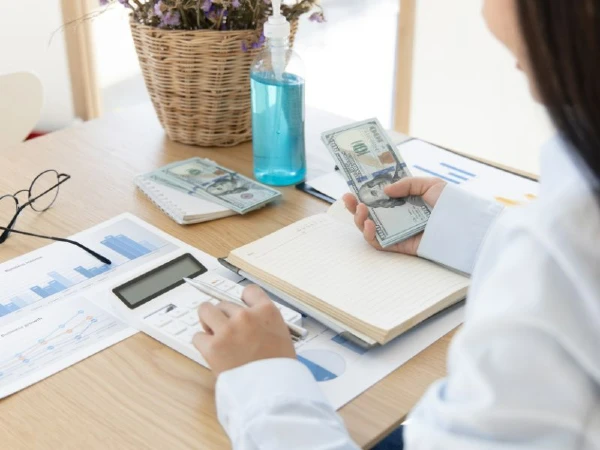 Find a Private Lender Who Is Willing to Finance Your Well Project
While there are many potential sources of financing for a well project, private lenders (often advertised as 'Buy Now Pay Later') can often be the best option. Not only do they typically offer competitive interest rates, but they also offer the flexibility to tailor the terms of the loan to offer you affordable monthly payments.
When seeking a private lender, shopping around and comparing offers is important. It is also important to carefully read and understand the terms of any loan agreement before signing. By taking these precautions, you can ensure that you choose a lender who is best suited to help you finance your well project.
Use Your Home Equity as Collateral to Secure a Loan for the Well Drilling Costs
Home equity loans are a popular way to finance a wide variety of home improvements, including well drilling costs.
Using your home's equity as collateral, you can secure a loan with a low-interest rate and a fixed monthly payment. This type of loan is also relatively easy to qualify for, even if you have less-than-perfect credit. In addition, the interest on a home equity loan is tax-deductible, which can further reduce the cost of borrowing.
However, it is important to remember that taking out a home equity loan increases your debt burden and puts your home at risk if you default on the loan.
Save up Money Over Time to Pay for the Well Drilling Costs Outright
Another option is to save money over time to pay for the costs outright. This approach has a few benefits.
First, you won't have to pay any interest on the money you borrow to finance the project. Second, you'll have complete control over the good drilling process and can choose the company and contractors you want to work with. Finally, you'll have the peace of mind of knowing that the well belongs to you outright and that you won't have to make any future payments.
Of course, this approach requires patience and discipline, but if you're willing to put in the effort, it can be a great way to finance your well-drilling project.
Exploring All Your Options
No matter which path you choose, remember to factor in the cost of pumps and water filters, as well as any permits or inspections that may be required. By doing your homework and exploring all of your financing options, you can rest assured that you're making the best decision for your family when it comes to getting a new well drilled.
For more information, check out this video by the National Ground Water Association (NGWA) on financing options for well construction.