Receive 24 Issues of All You Magazine for only $21!
(One issue alone will save you more than $21, if not $100+ in coupons)
Plus a percentage of your purchase will go to support March of Dimes, an organization dear to Kim's heart after the birth of her preemie twins.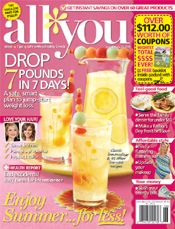 That's over 70% off the Walmart newsstand price. Price is valid for new or renewal subscriptions (and will not auto-renew), so you can extend your subscription before the price raises again!
All You provides value-minded women with practical, affordable, no-nonsense ideas for your everyday life with budget-friendly recipes, health information, and fashion, beauty and home ideas that won't break the bank.
Order All You Magazine Subscription
24 issues for $21
---
Bloggers, earn money promoting this offer through our Affiliate Program!
Price updated 7/12/14.