Disclosure: This post may contain affiliate links, meaning we get a commission if you decide to make a purchase through our links, at no cost to you. Please read our disclosure for more info.
If you're like most people, you probably find it difficult to keep track of your personal finances.
Between balancing your checkbook and budgeting for groceries and entertainment, it can be hard to stay on top of things.
What if you could track all of your key financial metrics in one place? Now you can! That's where the Monarch Money App comes in. This easy-to-use app will help you keep track of your income, expenses, and savings and to give you a truly holistic view of your personal finances it also shows you your total net worth.
Managing your money can feel hard, especially if you have a partner and you never seem to be on the same page. Rather than using multiple apps, spreadsheets, or pieces of paper to track your money, consider putting it all together in one app. With the Monarch Money you'll be able to take control of your finances and achieve your financial goals.
Keeping track of finances in my household used to be stress inducing, tedious, and overwhelming. I wanted a clear way to keep track of all my spending habits and monthly expenses that was outside of an excel spreadsheet and really gave me an overview of my entire net worth across accounts.
Monarch Money: The modern way to manage your money Managing money can be complicated. Track all of your accounts in one place, collaborate with a partner, and create a long term plan to achieve your goals. Get personalized advice along the way.
Give Monarch Money a Trial Today and see it helps you track your money and achieve your financial goals!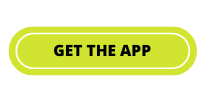 My Experience with Monarch Money
I signed up for a Monarch Money trial run and was very pleased with not only how easy it was to set-up but also how I got a full snapshot of my finances in one easy to read dashboard.
One feature I really liked was the option to customize my dashboard based on the goals that I set so I can see exactly what matters most to me on the home screen. Since my goal was not budgeting or money management but more to understand my Net Worth I choose to put this at the top of my dashboard.
But first let me take you through the set-up process and all the information that Monarch tracks. I was really impressed with the ease of set-up and how clear all the data displayed on each view.
Goal Setting
In the sign-up phase the app first asked me about my goals. I chose View All of My Finances and Manage My Money with a Partner, since between my husband and I we have a lot of different accounts from checking to savings, 401k, and investment accounts.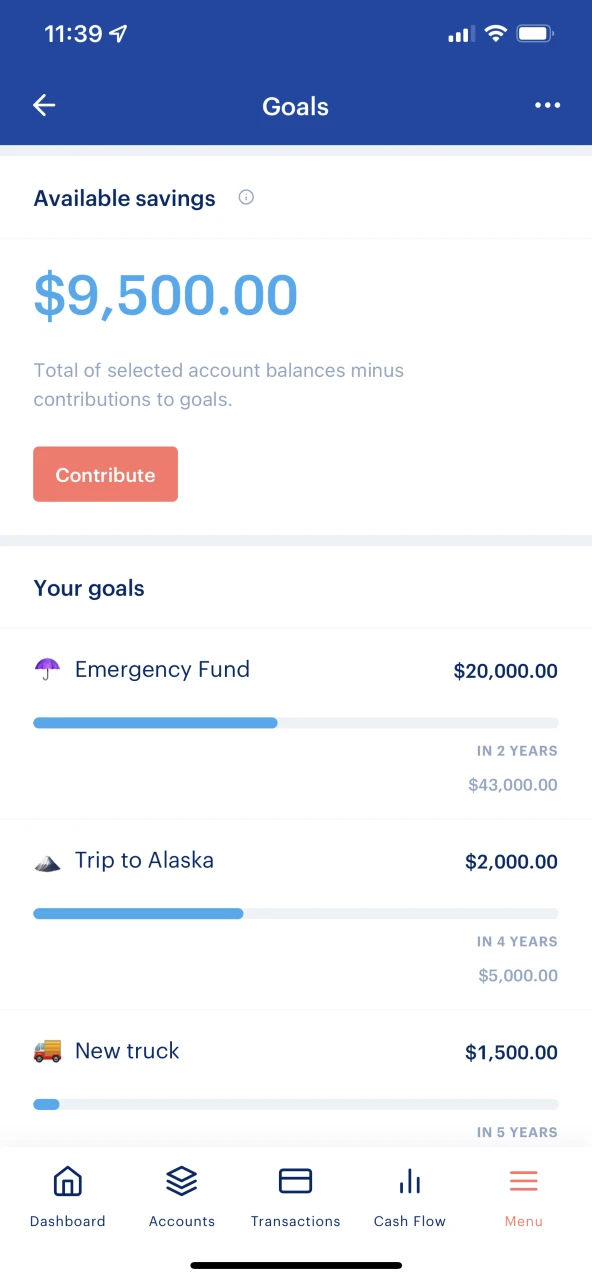 Other goal options include common goals for those looking to get into a better habit of managing their personal finances from budgeting to saving for big purchases:
View All of My Finances in One Place
Manage My Financial Plan or Budget
Track My Income & Spending
Pay Down My Debt
Save for a Large Purchase
Manage My Money with a Partner
Track My Investments
Other
Connect Accounts
The next step is to start connecting your accounts to the app. This is easy enough if you already have your account logins and passwords handy. I keep all of mine in the 1Password keeper for easy access and extra security. If you already use Mint they offer a handy migration option with a simple CSV file import.
The categories to connect include:
Banks & Credit Cards
Investments & Loans
Assets – including property, vehicles, and even crypto currency
Once all your information has been added you get a clear easy to follow dashboard that shows you total balances (assets & liabilities) across categories and a Net Worth total summary.
If you want to use the app to track your cash flow and spending habits by category you just jump down to the Cash Flow screen. I really like how the categories of spending pre-populate and even include cute little icons for each spending area.
Budgeting
Budgeting is in the next section and this feels very similar to other money management apps where you can set an overall budget and then envelope budget for specific categories such as rent, groceries, entertainment and so on.
Goal setting happens in the next tab with icon prompts for common goal categories. You can choose multiple goals and each one will show how much progress you are making towards the dollar goal and how long it will take you to reach it based on your current contribution amounts.
Emergency Fund
Down Payment
Travel
Holidays
General Savings or Other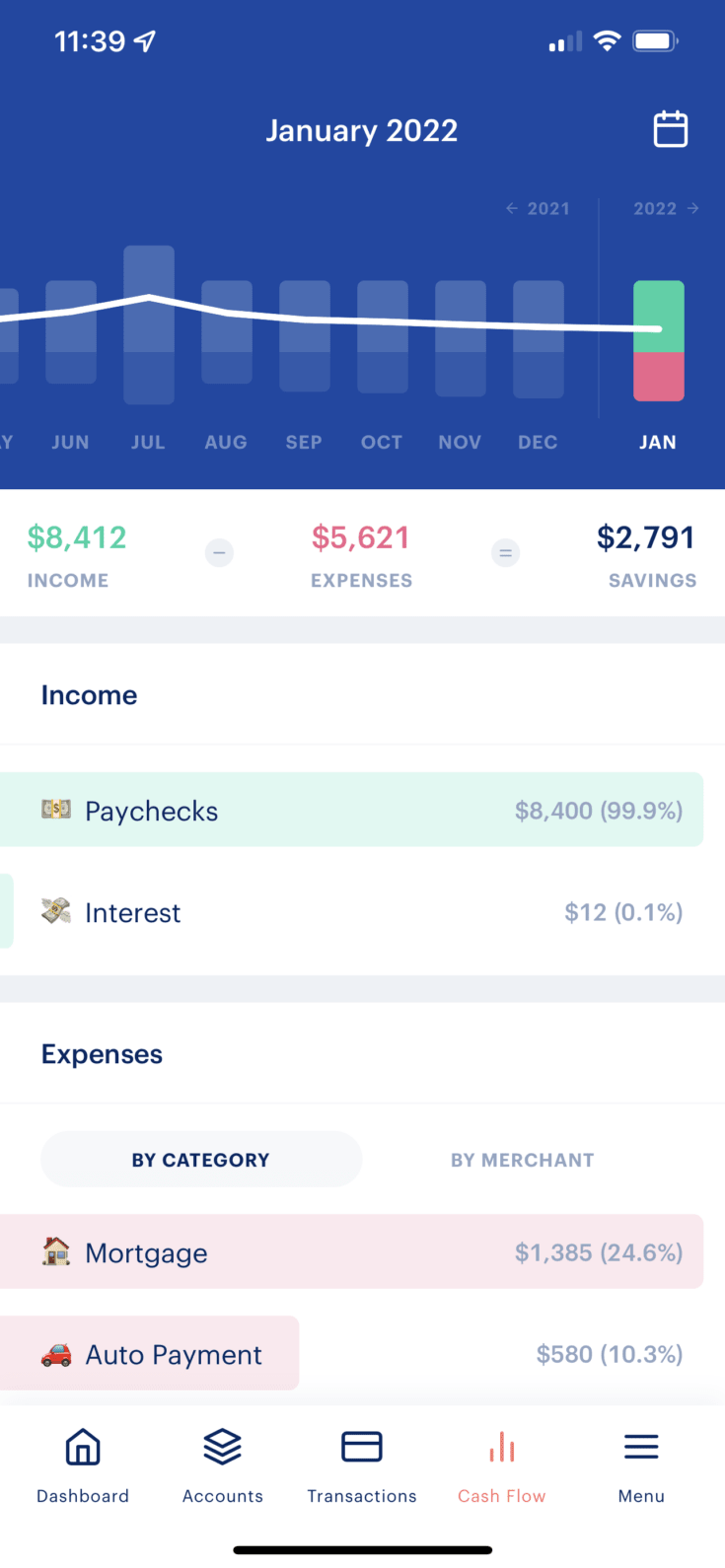 The next section lets you track all your investments in one easy to read dashboard. Here I can see my total portfolio value from stocks, bonds and mutual funds. I enjoyed this view since usually I only login to these accounts a few times a year so being able to see the compiled view across all of our household investment locations was really helpful.
The advice section is still in Beta so I didn't explore this yet but I do like that they plan to offer deeper support in the future. This section will be My name is Natalie and I'm a Certified Financial Planner (CFP ®) and a Behavioral Financial Advisor (BFA ™️).
Overall I am very pleased with the ease of use and all the different ways I can use this service to not only manage my finances on the day to day budgeting level but also to set my future goals and track my current financial health.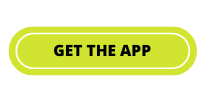 Summary of the Monarch Money Features
Monarch Money offers many more features than other money tracking apps including:
Connects with over 11,000 financial institutions for automatic syncing of your accounts (Banking, loans, debt, cc, crypto, investments, etc).
Tracks your investments in real-time
Get customized reports to see your data the way you want
Customizable dashboard to organize your finances in the easiest and most beneficial way.
Get notifications when you go over the budget you set
Track your spending
Categorize your spending habits into verticals, this way you can see the breakdown of what you spend each month (groceries, restaurants, rent & utilities, shopping, etc).
Create and track your financial goals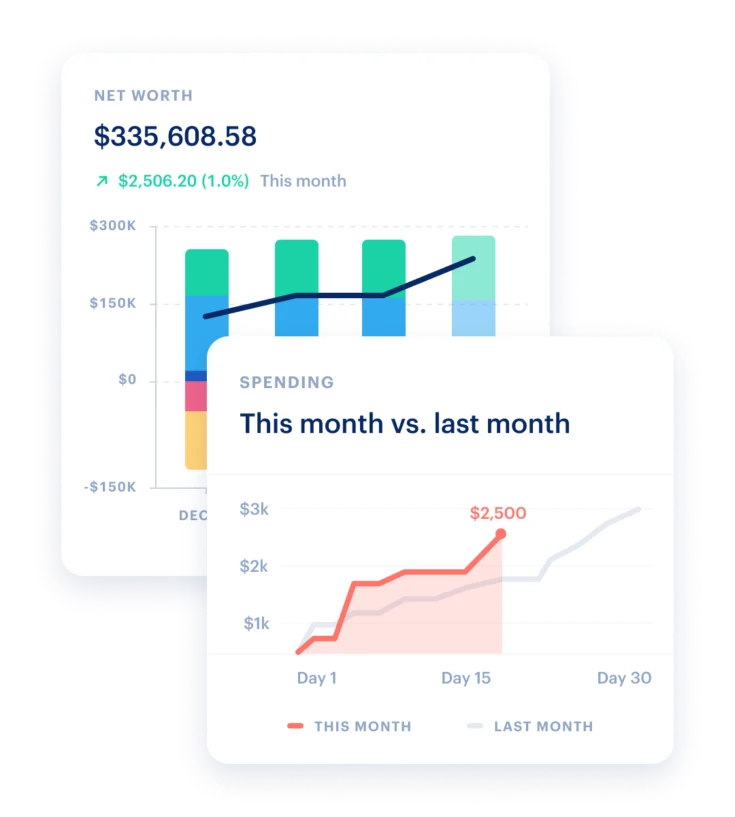 How Much Does Monarch Money Cost?
You can try Monarch Money for free for 7 days. You only need a credit card to sign-up on the mobile app, the web version allows for a no credit card free trial.
If you decide you like it at the end of the trial, you have two pricing options:
$9.99 a month cancel anytime
$89.99 a year ($7.50 a month) cancel after 12 months


How does Monarch Money Compare to Other Popular Money Tracking Apps?
Monarch Money tracks all your financial accounts in one place. You can work with your partner securely and in real-time, and even get advice on how to improve your financial situation. Monarch also focuses on your current finances as well as your financial future whereas other products only look at what happened historically.
Benefits of Monarch Money
Track Your Net Worth In One Place
Add in other features that make them stand out, net worth tracking: will aggregate all financial institutions (banking, loans, crypto, investment, etc) and let you know your total net worth.
Separate & Secure Collaboration
Invite a partner to your household for a joint view of your finances, without having to merge any financial institutions. You will each get your own secure login and a joint understanding and contribution to your finances. You can even invite a financial advisor to help save for future financial goals.
Ad Free
No ads so you know that your data is not being sold and all features being presented to you are to help you achieve your financial goals. Monarch follows a subscription based business model. No ads will interrupt your experience and your privacy is secure, they don't sell your data.

Monarch Money vs YNAB
YNAB or You Need a Budget follows the budgeting method that gives every dollar a 'job.' At the end of the month, each dollar you brought in should be allocated to either bills, spending, saving, or debt payoff.
Like Monarch Money, you can sync your accounts for easy tracking and if you use the app for all it's worth, you will stop living paycheck to paycheck and instead let your money 'age' so you aren't wondering how you'll pay next month's bills.
YNAB is more expensive than Monarch Money though – $14.99 a month or $98.99 per year.
Monarch Money vs Mint
Mint is a popular money tracking app because it's free. You can connect all your financial accounts to it for automatic tracking and you can set up and track your goals. In addition to tracking your spending, investments, and overall net worth, Mint offers free credit score tools including credit monitoring.
Monarch Money Reviews
It's always a good idea to see what current or past users of the Monarch Money app say about it. So far, the consensus is that it's a great app. Here's what most reviewers think.
The budgeting feature is user-friendly and easy to share with a partner so everyone is on the same page.
Monarch puts a lot of emphasis on cash flow, which is where many people struggle so it's a good focus point.
Reviewers love the progress status so they can see where they are with their goals.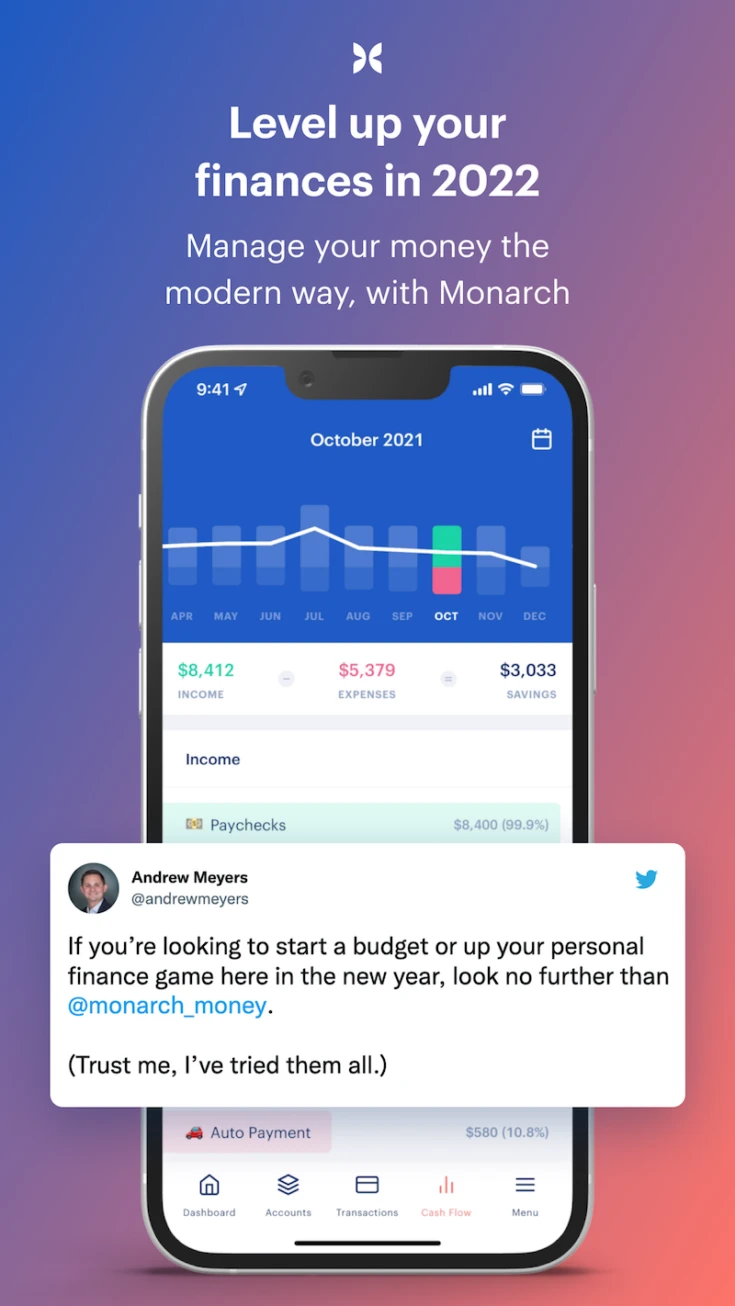 Final Thoughts
The Monarch Money app is a great way to get you and your partner on board with your finances. It's easy to use and its automation makes it easy to stay on track rather than forgetting to log transactions.
You can use it just for budgeting or use it for all it's worth and track your entire net worth to see how you're doing with your financial goals. Try it out for free today!