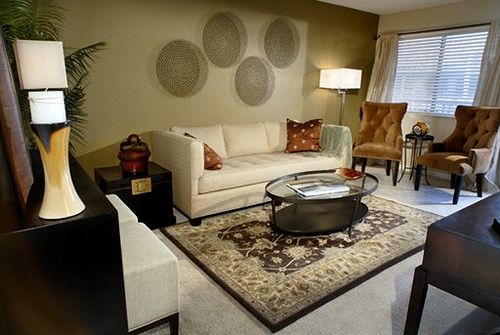 The living room probably won't be the most expensive space in your house to remodel, but if you're not careful, it could cost you a pretty penny.  It's all too easy to lose track of spending and go overboard when you're inundated with samples.  You may think to yourself that you're only going to do it once, so you should splurge and get exactly what you want, but that sort of attitude will blow your budget for sure and probably leave you several thousand dollars in debt by the end of the process.  Don't throw your money away!  There are plenty of ways to have the beautiful, comfortable, practical living room that fits both your needs and your stylistic desires.  Here are a few to consider.
1.  Flooring. You stand to spend a lot on flooring, but you could also save a fair amount depending on what you want.  If your tastes run to hardwoods, you can definitely have them without the astronomical price (or deforestation) by opting for reclaimed items.  You might also want to consider laminates.  Some of those on the market today look almost as good as the real deal, cost a lot less, and come with a warranty.  Stone tile can be cheap if you go for faux, and carpeting (especially with remnants) is almost always the least expensive option.
2.  Paint. The way to save on paint is to go for all-in-one options.  You can certainly waste time and money buying both primer and paint, but with many brands now offering a mixture of the two for a slightly higher price than a can of either one alone, you stand to save by purchasing one gallon that packs the same wallop as the previous two.  Plus, by choosing to turn painting into a DIY project, you'll definitely spend a lot less on labor (since it's pretty time intensive).
3.  Furniture. Whether you're looking for a matching set or you like things a little more eclectic, your main focus should be on the sofa.  Finding the right couch to fit your lifestyle and your tastes can be a tedious undertaking (not to mention expensive), but if you know where to look, you can definitely pay less.  Second-hand is a dirty word amongst decorators, but you don't have to look on the sidewalk.  Frequent estate sales for a bit and you could come home with a designer couch at a fraction of the cost.  Or if you have a leather sectional you love, simply have it reupholstered to spruce it up and redefine your space.  Even brand new can be cheaper if you shop online.
4.  Electronics. The entertainment for your living room (where you spend most of your leisure time) is important, but it could end up being the most expensive element if you don't shop around.  You probably don't need the latest and greatest (3D TV is unnecessary for home viewing), and the price of LCD flatscreens has come down a lot since LED has been gaining popularity.
5.  Accessories. When it comes to the finishing touches, decorate sparingly.  Splurge a bit on drapes, but don't go all out with candles, vases, and other knick-knacks that will probably be out of fashion in just a few years.
Sarah Danielson writes for Sofas and Sectionals where you can find an assortment of high end items by brands like Palliser furniture and Berkline furniture.