Disclosure: This post may contain affiliate links, meaning we get a commission if you decide to make a purchase through our links, at no cost to you. Please read our disclosure for more info.
Door dashing is becoming a popular way to make some extra money. If you're thinking about joining the door-dashing community or if you are current Door Dash driver "Dasher, you'll want the Door Dasher card. Keep reading to learn everything you need to know about Door Dasher cards and what makes them so great!
Not yet a driver?
DoorDash is a food delivery service that has partnered with local restaurants in over 300 cities across the US. Earn money through the DoorDash Driver Acquisition Program today to be a part of the booming personal delivery industry!
Earn money on your time, Sign up to drive with DoorDash and set your own schedule. Apply now!
Benefit #1: Instant No Fee Payouts
DoorDash drivers or 'Dashers' used to have to wait for their pay, typically weekly unless they paid a fee for an instant payout. Now, however, DoorDash offers DasherDirect, a virtual card that comes with many benefits including instant (and free) payouts.
Benefit #2: Cash Back Rewards
Cash back rewards with great rewards on gas, up to 10% off in peak seasons.
Benefit #3: Manage Your Earnings
Manage your earnings with one easy app powered by Payfare, including a linked debit card.
How do I use my DasherDirect Card?
Your DasherDirect card is a prepaid Visa card. You can use it anywhere Visa is accepted as well as at any ATM, although if you stick to AllPoint ATMs, your transactions are fee-free.
You can spend as much money as is on the card, so it's important to always check your balance in the app before spending. Most payouts are automatic, but DoorDash customer tips can take up to 30 days to reflect in your account in some cases.
Who can apply for a Dasher Direct Card?
Any current Dasher can apply for the Dasher Direct card, as long as you meet the following:
You have the updated DoorDash app
You work as an active DoorDash employee
You have a valid driver's license, US address, and valid Social Security number
You are at least 18-years old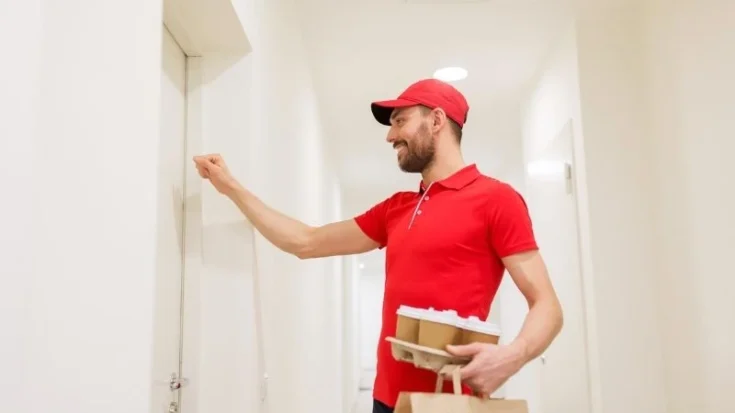 What are the benefits of the Dasher Direct Card?
No monthly or transaction fees
Instant access to your DoorDash earnings (no more waiting and including tips)
Free access to your funds at one of the 55,000 AllPoint ATMs
Earn 2% back on all gas purchases
How to Transfer Money from DasherDirect to your Bank Account
The DasherDirect account is like any other prepaid bank account. You can use the card to pay for goods and services anywhere Visa is accepted. You can also use the funds to pay bills or transfer to your bank account.
You just need the DasherDirect app to access your virtual account. To transfer funds to your bank account, initiate a transfer and tell the funds where to go. It could take up to 24 – 48 hours for the funds to arrive, so always check before spending.
Use You DasherDirect Card at ATMs
What ATM is free for DasherDirect card?
The best way to find a free or low cost ATM near your location is to first login to your DasherDirect app.
If you allow the DasherDirect app to access your location, the app will find the nearest free or low-fee ($2.50) Allpoint ATM. To access the ATM shortcut go to 'Quick Services' and choose 'Find an ATM Near You'.
How to use ATMs with the DasherDirect Card
You can also make withdrawals from any ATM that accepts VISA for $2.50 per withdrawal. Note that these ATMs may charge an additional surcharge to the withdrawal amount, be sure to check the screen when withdrawing if additional fees applies.
When the ATM prompts you for the type of account, choose "Checking." and add your pin.
Keep a copy of your receipt for your records.
Cash Withdrawal Limits with the DasherDirect Card
According to the DasherDirect website the following daily withdrawal limits apply of $100 per transaction . These amounts require the amounts to be funded in your account.
5 ATM transactions up to a total of $1000 per day (a day is any 24-hour period)
150 ATM transactions up to a total of $5000 per month (a month is any 30-day period)
Where applicable, you will only earn rewards on the purchase amount, not the amount of cash withdrawn.
How Long Does it Take to Get the DasherDirect Card?
It can take up to 10 days to receive the physical DasherDirect card, but you have immediate access to your account and virtual card upon approval.
With the virtual card, you can make online purchases or make online transfers, sending money to your bank account. The physical card is best for in-store purchases and to get gas rewards.
Can I Add DasherDirect Funds to Apple Pay?
Yes, just like any other payment method, you can add your DasherDirect card to Apple Pay. This is a great way to get faster access to making payments in-store before your physical card arrives.
Final Thoughts
DasherDirect is a great way to access your DoorDash funds much faster. You have almost immediate access to the funds, if not by the next morning. As long as you use an AllPoint ATM or manage the funds electronically, you'll pay no fees unless you need a replacement card, or you don't use your card for over 12 months.
These perks make it a great choice for regular DoorDashers!