Are you lucky enough to live near a Home Depot? I wish I was because I would sign up for the next Do-It-Herself Workshop!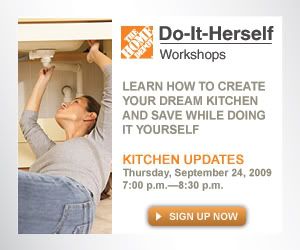 Home Depot's FREE Do-It-Herself Workshops are designed for women (but men can attend, too) and will teach you how to tackle projects around the house while saving you money by doing it yourself.
The next workshop is scheduled for Thursday, September 24, 2009 from 7:00 pm to 8:30 pm and the topic is Kitchen Updates where you can learn to create your dream kitchen and save while doing it!  Improve your kitchen and stretch your budget as you learn the following skills…
Cabinet refinishing
Cabinet painting and staining
Changing cabinet hardware
Replacing a sink
Replacing a faucet
Changing/upgrading lighting
And the best part, attendees usually receive free savings coupons as well!
Register Now – it's FREE! And there is no obligation whatsoever!