Disclosure: This post may contain affiliate links, meaning we get a commission if you decide to make a purchase through our links, at no cost to you. Please read our disclosure for more info.
If you're like most people, you hate having to wait to buy the things you want. You also probably don't have a lot of money saved up, so you have to be careful about how you spend it.
That's why online stores that offer buy now pay later options are so great!
You can get the things you want right away, without having to worry about saving up for them. Is there anything better than walking into a store and finding what you need, right then and there? No waiting for items to arrive, no spending hours online comparing prices. And now, many stores are offering the option to buy now and pay later – without having to put down a down payment.
So whether you're stocking up on supplies for your next party, picking up a new piece of furniture, upgrading your cell phone or looking to buy now pay later clothes, now is the time to take advantage of these buy now pay later stores. Plus, many of these stores offer great deals and discounts that can save you a lot of money in the long run.
So if you're looking for a way to get the things you want without waiting or spending too much money, check out some of the best buy now pay later online stores!
Buy Now Pay Later Marketplaces
Looking for online shopping sites with credit lines, these marketplaces and catalogs all offer all kinds of stuff to buy on credit while you shop online. Many based on future payments and bank statements not just credit history from the credit bureaus. Some only do a soft credit check which won't hurt your current score. These sites even offer options to help you possibly improve your credit score.
Perpay is a marketplace site that specifically offers Buy Now Pay Later financing on thousands of products, while helping you build credit.
The Perpay mission is to make everyday purchases more accessible and help you build credit along the way.
No credit check required
Shop 1,000+ top brands
Small payments from your paycheck
A simple way to build credit
Venue is a premium marketplace, offering competitive pricing and flexible payment options including Buy Now Pay Later financing by Synchrony. Shop from your favorite stores and save on over 1 million brand name products.
Learn more about the Venue marketplace here.
FlexShopper
FlexShopper is the leading provider of a flexible and easy way for you to lease-to-own the latest electronics, furniture, appliances and other popular brand name products with affordable weekly payments. Easy weekly payments. No hidden fees.
Fingerhut
Fingerhut specializes in helping those with bad or low credit, rebuilt credit safely with their marketplace of financed products through their catalog. You can buy everything from furniture and bedding to jewelry to the latest electronics, all with affordable low monthly payments. Fingerhut offers you a great way to give your family the basics and beyond with top brands and gifts for the whole family.
Learn more about how Fingerhut works here.
Buy Now Pay Later Apps
Buy Now Pay Later payment options have really expanded quickly in the past few years, starting with the early adopter Paypal Pay in 4, to now there are so many Buy Now Pay Later apps and BNPL Providers from new buy now pay later companies like Apple Pay Later and established ones like Afterpay.
These are the new option for those looking for an alternative to credit cards. Here is a round-up of the most popular Buy Now Pay Later no credit check apps available in the US in a handy infographic!
Looking for a buy now pay later store near me?
The top apps will have a local finder option for physical stores once you login.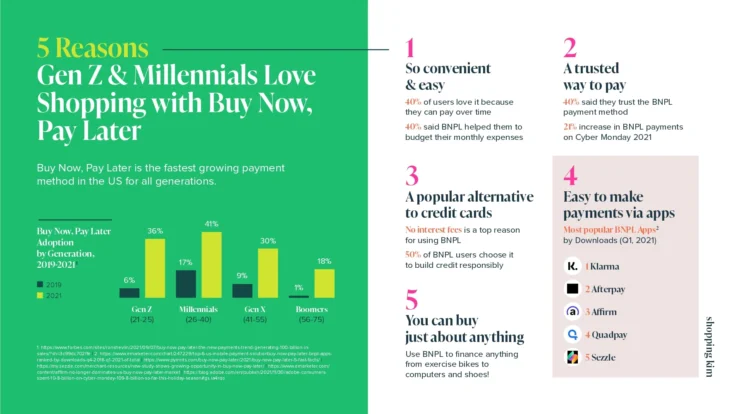 Klarna
Shop now, pay later in 4 interest-free payments using the official Klarna app. Now the #1 downloaded app with over 40M users. Discover our guides to Klarna including frequently asked questions about Klarna and your credit, and where to shop using Klarna, how to use the ghost card and more helpful info!
Afterpay
Want It. Shop It. Pay It In 4 Interest-Free Installments Over 6 Weeks. Shop favorite trendy retailers including Urban Outfitters, Savage Fenty & more. With over 5M+ US Customers and a global fan base in Australia, NZ and other countries, shoppers love using Afterpay to Buy Now Pay Later. Pay it in 4 installments with no fees when you pay on time.
Discover if your favorite retailer offers Afterpay in our guide to Afterpay Stores, how Afterpay works with your credit score, and what you need to know about the Afterpay Card.
More About Afterpay/ Clearpay
Affirm
Affirm Buy Now Pay Later, offering an easier way to pay for the big ticket items you want from tech, electronics, and sporting equipment- from e-bikes to Kayaks! You can count on Affirm giving transparency and no hidden late fees or surprise charges, easy monthly payments. Thousands Of Stores, offering as low as 0% APR. Find out how Affirm works, what surprise BNPL service they power (Shopify Shop Pay and Amazon) and what stores take Affirm financing.
Zip (Formerly Quadpay)
Shop with Zip and get the benefits of instant approval, transparent payments. No hard credit check and no impact on your credit score. Just 4 installments over 6 weeks. Read on to find out how Zip works and where to use it to get your shopping fix!
Sezzle
Sezzle is known as thest-shopper-rated Buy Now, Pay Later solution for small businesses. Find your favorite boutique and small shop brands offering Sezzle payment plans. Sezzle Buy Now, Pay Later in 4 interest-free payments over 6 weeks when you #SezzleIt. Payments with Purpose, they are even a Certified B Corp. Find out how Sezzle works, and where to shop!
Apple Pay Later
Good news for all Apple fans! Apple now offers their own version of Pay Later via the Apple wallet called Pay Later. Find out how it works here. Looking for stores that accept Apple Pay? Our comprehensive list of Apple Pay stores can be found here.
Best Buy Now Pay Later Sites
What are you looking to buy now and pay for later? Here's our top choices for sites to shop by category:
Auto Parts | Clothing | Computers| Furniture | Golf Clubs | Mattresses | Vacations
If you're wanting to finance one of the above items, click that link to continue. If not, keep scrolling for over 100 online stores that offer deferred billing so you can make payments on your needs and wants or get a personal loan for up to $2,500 that you can spend on anything you want.
Here is a list of Kim's top online buy now pay later stores and websites that offer deferred billing so you can buy what you need now and pay for it later over time with monthly payment plans (in alphabetical order as I don't recommend any one over the other).
So whether you're in the market for a new wardrobe, some home decor, or just want to treat yourself to something nice, there are plenty of online stores that offer deferred billing so you can buy now and pay later.
Just be sure to read the terms and conditions carefully before you sign up, as each store has their own policies when it comes to missed payments and interest rates. And most importantly, have fun shopping!
Buy Now Pay Later Clothing Websites
We've rounded up all your favorite buy now pay later clothes websites for everything from kids clothing, to mens, women's and speciality clothing! Shop the categories here.
Stores
A | B | C | D | E | F | G | H | I | J | K | L | M | O | P | Q | R | S | T | U | W | Z
A
| | | |
| --- | --- | --- |
| Store | BNPL Option | Description |
| ABT | Paypal Credit, FlexShopper, Abt Card | Offers 12 months special financing on electronics and appliances plus free shipping on thousands of products |
| Amazon | Abunda | Get a free $50 gift card for applying and getting approved for their Amazon Rewards Visa Card that you can instantly apply towards a new set of golf clubs plus earn 3% back on your Amazon purchase. You can also finance Finance Amazon Purchases With Abunda |
| Appliances Connection | Appliances Connection Credit Card, Paypal Credit | The Appliances Connection Credit Card offers no interest if paid in full up to 24 months, plus receive 5% back on a gift card on every purchase over $999 when financing for 6 months |
| Argos (UK) | Argos Card Credit | Range of credit plans from 3 to 12 months |
| Ashley Homestore | Ashley Credit, Synchrony, Progressive Leasing | Special financing options on furniture with no money down. Can be combined with discount offers. Click here for more info |
B
| | | |
| --- | --- | --- |
| Store | BNPL Option | Description |
| Bass Pro | Sezzle | Stretch Your Payments Plan is powered by Sezzle and is only available on internet online orders (not available in stores) on orders of $150 or more. Click Here for more details |
| Beautylish | Flexible Payments | Flexible payments available. Pay 1/3 of your balance at checkout, and pay the rest in 2 monthly payments that are automatically charged to your card on file. There is no interest or fees. No credit check is required. Flexible Payments are available to Australia, Canada, New Zealand, United Kingdom and United States orders of $99 or more. |
| Bed Bath & Beyond | Afterpay | Earn rewards and special financing with their store card credit card option (can only be used at Bed Bath & Beyond) and/or a Mastercard credit card option (can be used anywhere) |
| Boscov's | Boscov's Credit | Boscov's is America's largest family owned department store and offers their own credit card that rewards you for being a cardholder |
| BrandsMart USA | BrandsMart Credit, Acceptance Now | Buy top brand TVs, home appliances, washers, dryers and more with several financing options including the BrandsMart USA Credit Card, Fortiva Financing and/or Acceptance Now |
| Byte Invisible Teeth Aligners | BytePay, Affirm, CareCredit | offers BytePay, a monthly payment plan with a guaranteed 100% approval. There is no impact to your credit score (bad credit is okay), and approval is instant |
C
| | | |
| --- | --- | --- |
| Store | BNPL Options | Description |
| Carter's | Carter's Credit Card | The new Carter's Credit Card make rewarding moments even more rewarding: Save 25% when you open and use your card, Free Shipping, Double Points, Surprises and more |
| Check Into Cash | | Apply in minutes and get cash deposited to your back account to use on whatever you want! CheckIntoCash is a trusted payday advance lender. Apply now! |
| Conn's Home Plus | | Offers a variety of credit and lease options on appliances, furniture, electronics and more. Financing option include a store credit cards, retail installment contracts and lease-to-own programs through Progressive Leasing. Conn's will only ship to states that have one of their stores in that state, so you must live in the one of the following states to get approved for credit: Alabama, Arizona, Colorado, Georgia, Louisiana, Mississippi, Nevada, New Mexico, North Carolina, Oklahoma, South Carolina, Tennessee, Texas and Virginia. Shop Conns.com now! |
D
| | | |
| --- | --- | --- |
| Store | BPNL Options | Description |
| Dell.com | Dell Preferred Account | Sign up for Dell Preferred Account which is a revolving line of credit that is available for items purchased for personal and home use |
| Dooney & Bourke | Klarna | Offers DooneyPay to stretch payments up to three easy pays with no interest on your existing debit or credit card and applies to in-stock products only |
E
| | | |
| --- | --- | --- |
| Store | BNPL Options | Description |
| ElectroFinance | | Get instantly approved for up to $5,000 in brand name electronics from Best Buy with no credit needed. All you pay is an initial payment of just $50. Most products are available the same day and can be picked up from BestBuy with $0 due at pickup |
| Emma Sleep | Affirm & Zip | We design for wellness. We want you to be energized, empowered, refreshed, and to feel good. Emma was founded on the values of bridging thoughtful design and proprietary sleep technology together to make solutions that work for every type of sleeper. |
F
| | | |
| --- | --- | --- |
| Store | BNPL Options | Description |
| FunJet | Uplift | Use Uplift to Buy Now Pay Later for Funjet vacations. |
G
| | | |
| --- | --- | --- |
| Store | BNPL Options | Description |
| Goodyear | Goodyear Credit Card, Affirm | Increase your current rebate on tires and get low monthly payments using the Goodyear credit card |
H
| | | |
| --- | --- | --- |
| Store | BNPL Options | Description |
| Home Depot | Home Depot Consumer Credit Card | Apply for a Home Depot Consumer Credit Card with up to 24 months special financing on purchases of $299 or more |
| Home Shopping Network | Flex Pay | Buy Now, Pay Later with Flex Pay, which is better than layaway! Buy electronics now , such as HDTVs, Printers, Wii's and Computers, get it home and pay it off over time – with no fees or interest |
I
| | | |
| --- | --- | --- |
| Store | BNPL Options | Description |
| Invicta Stores | Invicta Card | Get 12 months special financing available on exclusive watches with the Invicta Card. Select "Invicta Card" at checkout and apply easily online |
J
| | | |
| --- | --- | --- |
| Store | BNPL Options | Description |
| JCPenney | JCPenney Credit Card | Get extra discounts and earn rewards faster when you use your JCPenney credit card, plus combine discounts with coupons to save more! |
K
| | | |
| --- | --- | --- |
| Store | BNPL Options | Description |
| Kmart | Layaway, WhyNotLeaseIt, Shop Your Way Mastercard | Offers layaway, leasing options and their own Shop Your Way Mastercard. Make payments on items with layaway (More info), and no credit is required to lease items. |
| Kohl's | Kohl's Charge Card | Having a Kohl's Charge card entitles you to extra savings offers thoughout the year. Plus paying for your online order with Kohl's Charge gets you extra discounts. Save now, pay later! |
L
| | | |
| --- | --- | --- |
| Store | BNPL Options | Description |
| LegitGrails | PayPal | From luxury bags to sneakers – you name it, LegitGrails authenticates it. |
| Lenovo | Klarna, Katapult | Buy laptops, ultrabooks, desktops, all-in-one computers, workstations, tablets, smart devices, monitors, servers and more. They offer several financing options including Zibby, Klarna, Behalf Credit, and Lenovo Financial Services |
| Lilysilk | Klarna, Paypal | Silk Shirts, Pajamas, Bedding and More! |
| Lumens | Lumens Credit Card | No interest if paid in full within 12 months on purchases of $999 or more of modern lighting, ceiling fans, furniture and home decor made with the Lumens Credit card |
| LuxeDH | Affirm | Make payments on pre owned designer handbags including Louis Vuitton and Chanel with their Luxe Layaway Payment Plan (the balance is split up into 3 payments using your debit or credit card) |
M
| | | |
| --- | --- | --- |
| Store | BNPL Option | Description |
| Microsoft | Dell Preferred Account | Opt to choose their Surface All Access program which is a financing platform in which you can select installment payments for up 24 months on Microsoft product bundles |
O
| | | |
| --- | --- | --- |
| Store | BNPL Option | Description |
| Overstock | Progressive Leasing | No credit is needed for Overstock's Lease-To-Own option. They also offer $30 Welcome Rewards when you apply for the Overstock Store Card |
P
| | | |
| --- | --- | --- |
| Store | BNPL Option | Description |
| Pay Later Tires | Discount Tire Credit | Finance tires on flexible payment plans. You can lease tires with no credit or bad credit with a fast approval process |
| Perpay | Perpay Credit | Buy products and brands you love and make small, easy payments from your paycheck with no credit check and no interest. Get $50 free credit when you sign up through our link! |
Q
| | | |
| --- | --- | --- |
| Store | BNPL Option | Description |
| QVC.com | Easy Pay | Get more with QVC's QCard! Enjoy 4 Easy Pays on everything you buy with your QCard. Don't have a QCard yet? Get a $20 QVC credit when you open a new QCard and make a purchase |
R
| | | |
| --- | --- | --- |
| Store | BNPL Option | Description |
| Relax The Back | Synchrony | Has their own stress free no interest financing through Synchrony with the Relax The Back credit card |
S
| | | |
| --- | --- | --- |
| Store | BNPL Option | Description |
| Sears | WhyNotLeaseIt® | Receive 5% off select departments plus no interest on certain products if paid in full in 24 months with your Sears Card |
| Slumberland | Affirm & PayPal | Get furniture & mattresses with Slumberland and sleep now pay later. |
| Southwest Vacations | Uplift | Pay for your vacation into easy payments with UpLift's Pay Monthly option that offers an affordable plan of 12 monthly payments and no hidden fees |
T
U
| | | |
| --- | --- | --- |
| Store | BNPL Option | Description |
| Ulta Beauty | Afterpay | Sign up for an Ultamate Rewards Credit Card or an Ultamate Rewards Mastercard to buy cosmetics, fragrance, salon and beauty gifts on credit while earning rewards |
W
| | | |
| --- | --- | --- |
| Store | BNPL Options | Description |
| Walter Drake | Easy Pay | EasyPay is available for credit card orders. The first payment will include shipping & handling fees and sales tax. The balance due will be divided into equal monthly payments |
| Wayfair | Affirm, Acima, Katapult | Sells a zillion things for your home including affordable living room furniture, bedroom furniture, accent furniture, patio furniture and more. They accept Affirm for payment |
| With Clarity | Clarity Credit Card | Try on finely crafted engagement rings at home. Financing is available with the Clarity Credit Card |
| Woman Within | Woman Within Platinum Card | Get $10 off your current order plus a bonus $10 reward when you apply and use a Woman Within Platinum credit card through our link. Benefits include $10 Rewards, 20% off birthday gift, free shipping offers, no annual fee and more platinum perks |
Z
| | | |
| --- | --- | --- |
| Store | BNPL Options | Description |
| Zulily | Smart-pay | Select Smart-pay when you use your Zulily credit card, and they'll split your purchase into 3 easy charges. Smart-pay is available only to eligible Zulily members, and there is no need to apply |
| zZounds | PLAY AS YOU PAY®, Affirm | "Play As You Pay" installment plan available on orders over $59 with 0% interest charged and no credit check |
More Payment Options
The above stores all offer payment plans with their own store card or financing options. Several hundreds of other stores offer deferred billing through a payment processor. Below is a list of payment processors. Click each link below to learn more about that option, apply and/or see a list of stores that accept payments from that processor.
Interested in shopping catalogs? Many now offer Buy Now Pay Later options. Find our list of top 100 free retail catalogs here.
If none of the above buy now pay later stores offer what you are shopping for, we recommend getting a personal loan up to $2,500 as soon as tomorrow. All credit types are welcome. Request a loan in 5 minutes!