Disclosure: This post may contain affiliate links, meaning we get a commission if you decide to make a purchase through our links, at no cost to you. Please read our disclosure for more info.
If you're one of the many people who love to shop online, but hate having to wait until payday to buy what you want, then you'll love Sezzle!
Sezzle is a buy now, pay later service that lets you spread your purchase over several weeks or months, without interest. Plus, there are a ton of great online stores that accept Sezzle as a payment method.
So whether you're looking for clothes, shoes, furniture, cell phones or anything else, there's sure to be an eCommerce store that accepts Sezzle payments. Keep reading for a list of some of our favorites!
Sezzle lets you buy what you want today and pay for over four equal installments. Get approved instantly with no credit check, and there are no fees if paid on time. Sezzle helps millennials (you have to be 18 years or older to use Sezzle per the user agreement) and others with poor or low FICO scores by offering credit.
Here is the list of online stores and boutiques and places that take Sezzle for payment to buy now and pay later.
Here are our Top 10 Best Stores to Buy Now Pay Later with Sezzle from sporting goods to gaming gear, beauty and toys there is a store that takes Sezzle!
Learn how Sezzle works and applying will impact your credit in this guide to everything Sezzle Buy Now Pay Later.
If you're looking to buy now and pay later, Sezzle is the perfect solution. There are tons of great online stores that accept Sezzle so you can shop for anything your heart desires. Plus, there are no fees if you paid on time- it's a win-win situation!
Why Do Stores like Sezzle?
Independent shops and boutiques use Sezzle as an alternative to other payment options including traditional credit cards like Visa, Mastercard, American Express or newer payment gateways like Paypal, Amazon Pay or Apple Pay. Boutiques and specialty retailers hosted on the selling platform Shopify LOVE accepting Sezzle since it allows them to offer a benefit to their customers in the form of Buy Now Pay Later financing that is seamless for both the merchant and customer. Ready to shop and pay with Sezzle?
Check out our list of favorite stores that accept Sezzle below. Happy shopping!
Top 10 Stores that Accept Sezzle Buy Now Pay Later
Shop the latest in electronics, gaming cards, screens, video games, consoles and more. Now easily finance your purchase with Sezzle and pay in 4 easy installments. Approval happens on site when you choose Sezzle at checkout.
Time get outside! Stock up on all your dream sporting gear from fishing to boating, camping and everything outdoors and pay over time with Bass Pro Shop Sezzle payment option! Stretch your payments for 6 months on purchases of $150 or more.
3. Thursday Boot Company
Boots designed for men and women to look great and be made with the highest quality materials. Your new favorite boots await you at Thursday Boot Co. Now you can afford more than 1 pair with Sezzle!
Design focused luggage that is minimalist in look but functional and quality to become a timeless classic. For the wanderlust leisure traveler or serious business traveler this is the suitcase brand for you. Pay with Sezzle for 4 easy payments.
Yes! That Target now accepts Sezzle as a payment option online. Whether you are shopping for back to school, furniture or household basics you can now budget those big Target carts with pay in 4!
From October 31st to year round costumes for that school dress up day to themed costume parties with friends you are bound to find the perfect piece at Halloweencostumes.com with the option to pay with Sezzle.
At Fun.com you'll find official licensed merch for all your favorite characters from Disney to Star Wars, Marvel, Harry Potter and DC Comics. A great one-stop shop for holiday gifts for the kids and silly gifts for the grown-ups including bobbleheads and more! Pay for your gifts at Fun.com with Sezzle and get the gift of no interest, pay over time installments.
Yaasa is the world's leading adjustable furniture company, from the Yaasa Adjustable Bed, Desk and Chair, the furniture is not only functional, comfortable it is also designed to be beautiful! Shop Yaasa and pay with Sezzle.
Buy Furniture Now, Pay Later with Stores that offer Payment Plans

Into modern design and furniture? You must know about Touch of Modern, a super secretive deal site that is only for members. Get deals up to 70% off retail and now finance with Sezzle.
They say we spend over 30 percent of our lives sleeping so why not make the most of it? Sleepenvie is here to bring you the best mattresses for your sleep style. Now pay in installments with Sezzle. Available in US & Canada.
Cute clothing that is comfortable and flattering for all body shapes is what you will find at Adorn! Making fashion fun, approachable, and inclusive for women of all ages and sizes. Shop now and use Sezzle at checkout.
Our Favorite Stores That Take Sezzle
Check out our alphabetical list of stores that accept Sezzle Buy Now Pay Later from Men's Clothing Stores, Fashion retailers, Kids Clothing to Makeup and Beauty Brands and Independent Boutiques!
Retailers that don't yet take Sezzle
There are some favorite retailers and big brand stores that don't yet take Sezzle but do take other Buy Now Pay Later apps.
Does Target take Sezzle?
No Target doesn't accept Sezzle, but read how to use Afterpay and Affirm in this article.
Can I use Sezzle on Etsy?
No, Etsy does not accept Sezzle. Etsy does offer Klarna and Paypal.
Does Wal

mart accept Sezzle?
No, Walmart does not accept Sezzle. Walmart Buy Now, Pay Later: A Comprehensive Guide to Flexible Payment Options
Does Sezzle work with Amazon?
Wondering if you can use Sezzle on Amazon? At this time the answer is No, Amazon does not accept Sezzle.
However, you could try using Abunda, a BNPL service that offer many Buy Now Pay Later options for Amazon products including Sezzle. Find out how Abunda works here.
No, at this time Tractor Supply does not take Sezzle or any other Buy Now Pay Later financing. They do have special financing offers through their store credit card.
Can I use Sezzle with Apple Pay?
Sezzle does not currently work with Apple Pay. Intead look at this list of stores that accepts Apple Pay.
#
| | |
| --- | --- |
| Store Name | Store Type |
| 686 | Snowboarding & Technical Winter Outwear |
A
B
C
D
| | |
| --- | --- |
| Store Name | Store Type |
| Dash Outfitter | Wholesale Fashion |
| Dazzlepro | Sonic Toothbrush with UV Sanitizing Charger Base |
E
| | |
| --- | --- |
| Store Name | Store Type |
| eLiquid | Vape Products & Premium eLiquids |
| Emerica | Skateboard Footwear and Apparel |
| Etnies | Skateboarding Shoes & Clothing |
H
K
| | |
| --- | --- |
| Store Name | Store Type |
| Kove | Hi-Fi Portable Speakers & Headphones |
M
P
| | |
| --- | --- |
| Store Name | Store Type |
| Proozy | Great Deals on Famous Brands |
R
S
T
V
Store Name
Store Type
Discount
Vanity Planet
Cruelty-Free Beauty Solutions for Your Skin, Hair, Health, & Well-Being
Get 30% Off With Code: Vpa30
Victoria Emerson
Leather Wrap Bracelets
Other Stores That Take Sezzle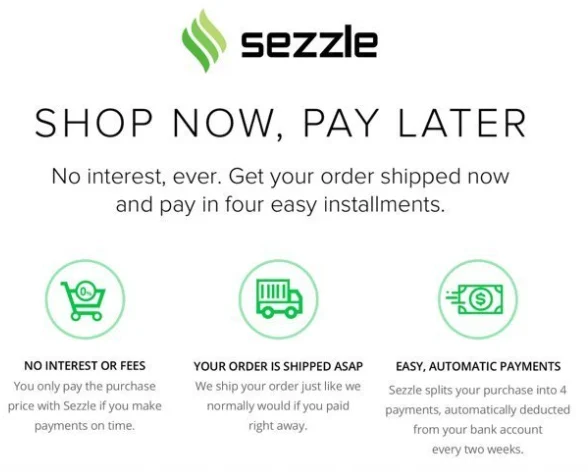 Can't find what you're looking for? Apply for a personal loan up to $2500 to be deposited in your bank account today to use on whatever you want or need. Apply now!
Are we missing any Sezzle stores? Leave a comment, and we will update the list as we learn of more stores that accept Sezzle for payment. If you are a merchant that would like to be added or recommended, please contact us.
If you do not qualify for a Zip (formerly Quadpay) account, we suggest checking out Affirm, Quadpay, Afterpay, Klarna and/or Zibby. Or check out our humongous list of all online stores that offer payment plans.
Find more Afterpay store options here.
Looking for catalogs from stores that offer Buy Now Pay Later options? Check out our Top 10 Buy Now Pay Later Catalogs.