Disclosure: This post may contain affiliate links, meaning we get a commission if you decide to make a purchase through our links, at no cost to you. Please read our disclosure for more info.
Target is one of America's favorite retailers both for the in-store shopping experience and online range of products! The one drawback is that there are now so many ways to pay for your Target cart and they vary in-person to online. We've done the homework and provided the rules for buying using everything from digital wallets to Buy Now Pay Later Services.
Afterpay is a service that allows you to make purchases now and pay for them later in four equal installments. The service is available at many online stores, and it's a great way to split up the cost of a large purchase.
But what about one America's favorite retailers Target? Does Afterpay work in-store as well as online?
We did some research and found out what Buy Now Pay Later options are available at Target including Afterpay.
We also looked into alternative Buy Now Pay Later services you can use online.
Target, one of the largest retailers in the United States, now offers multiple buy now pay later option to its customers. This means that customers can purchase items online or in store and spread the cost of their purchase over time.
Does Target Take Afterpay
Great news for Target.com shoppers, you can now use Afterpay on qualifying online purchases but there is a catch!
How to Use Afterpay at Target.com:
In order to use Afterpay as your payment method you first have to login to the Afterpay app or Afterpay customer portal or use your Afterpay Card and then choose Target as your store to shop.
You won't find Afterpay as a checkout option if you go directly to Target.com.
Afterpay is not a valid payment option in-store, it only works online.
How to use Afterpay on Target Optical
Target Optical the online department for prescription eyeglasses and sunglasses gives you the direct option of paying with either Affirm or Afterpay. Simply choose your preferred payment method at checkout.
Want to spread out the cost of your order with Target Optical?
Select 'Affirm' or 'Afterpay' as your payment method at checkout
to pay in interest-free installments, with no hidden fees.
Does Target Optical Take VSP?
Yes, Target Optical takes most insurance including VSP.
Simply fill out the insurance eligibility form on a product page to see if you qualify. Target Optical online also accepts VSP and other plans but you will need to submit qualifying receipts and paperwork.
You may also use out-of-network benefits at Targetoptical.com for most other vision insurance companies, like VSP and Spectra. You can submit the claim form directly to your insurance company. Download the form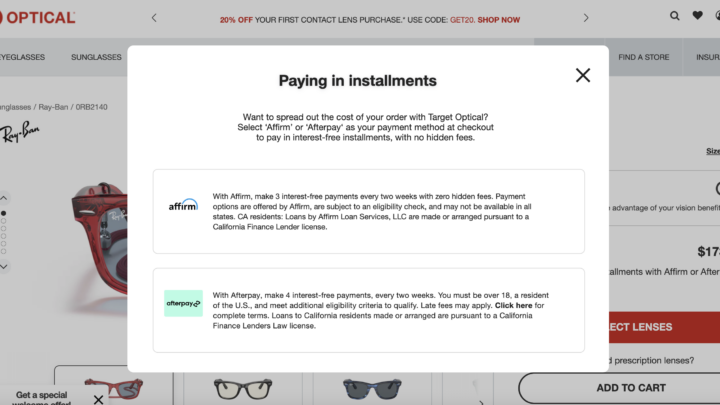 Does Target take Apple Pay®?
Yes, Target physical stores do take all major mobile payments and digital wallets such as Apple Pay,® Google Pay™, Samsung Pay. Currently you cannot use these payment methods on Target.com.
How to Use Sezzle at Target
Looking to use Sezzle Buy Now Pay Later at Target.com? Great news Sezzle now works online at Target.com but is limited to select product categories. Once you add qualifying items to your cart you can checkout using Sezzle. Qualifying items will show the Sezzle logo on the product page.
Look for the Sezzle logo in these online departments:
Health
Beauty
Apparel
Accessories
How to Use Sezzle in-store
Did you know you can also use Sezzle at your local Target physical store location on qualifying product categories?
You will need a smartphone, Sezzle Account and Apple Pay or Google Pay wallets.
This isn't as straightforward as swiping your credit card so you'll have to follow these steps:
Download Sezzle App
Activate Sezzle Virtual Card
Add your virtual card to Apple Pay or Google Pay
Checkout using Apple Pay or Google pay and choose your Sezzle card.
Sezzle will send you an email confirmation with your order details and payment schedule.
Using Affirm at Target
When you shop at Target with Affirm, you can expect more, pay less, and pay over time. Get your home decor, fashion, and more and pay at your own pace with no hidden fees.
Affirm works on qualifying online purchases at Target.com. To find out if your order qualifies look for the Affirm logo on the product page.
How Affirm Works on Target
Purchase minimum $100 up to $15,000 including tax.
Choose your payment plan, with monthly payments that don't change over time. Pay over 3, 6, or 12 months. For example, you might pay $27.08/month for a $299.99 purchase at 15% APR for 12 months.
You'll never pay more than what you agree to up front. There are no late fees or other hidden fees.
Your cart must contain only eligible items to use Affirm for payment.
Subject to credit check and approval. Down payment may be required. Rates from 10–30% APR for orders over $100. For purchases under $100, limited payment options are available.
To take advantage of this service, customers simply need to select the Affirm payment option at checkout.
Does Target Take Klarna?
Yes, you can use Klarna for your purchases at Target but it will only work online, not in physical stores.
How to use Klarna at Target
Benefits of Buy Now Pay Later at Target
Target's buy now pay later service is a great way to manage your budget and make your purchases work for you. With no interest or fees, and flexible repayment terms, it's an affordable way to shop for everything from everyday essentials to big-ticket items. So next time you're looking to make a purchase at Target, be sure to take advantage of their buy now pay later option!