Disclosure: This post may contain affiliate links, meaning we get a commission if you decide to make a purchase through our links, at no cost to you. Please read our disclosure for more info.
Affirm is easier and faster than using a credit card. Simply enter your basic details to get approved instantly. Affirm lets you get your order now, then split your purchase into multiple payments to pay back over time to fit your budget.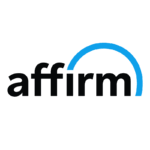 Over 1,300 merchants now offer Affirm for financing. Here is the list of 400+ online stores that accept Affirm for payment to buy now and pay later (the top stores that I recommend are bolded):
Most Popular Affirm Stores
The full list of stores accepting Affirm is extensive as they are constantly adding new retail partners! Not to worry we've rounded up the best Affirm stores from every category including home electronics, clothing, shoes and furniture.
Consumer Electronics Stores that Accept Affirm
Did you know you can finance your TV with Affirm at Walmart, along with any other new cool electronics, gaming gear, and more for your home or office? Walmart Layaway is now Walmart financing powered by Affirm, find out how it works here.
Need a new phone but don't want to pay full price, look no further than Gazelle for refurbished iPhones and and more and pay in 4 , sometimes with no down payment with Affirm. Shop and pay in 4 with Affirm for anything from vacuum cleaners at iRobot to professional level instruments, DJ gear and more at Sam Ash instruments.
Clothing Stores that Accept Affirm
Shop for women's clothing at Anthropologie, a popular retailer, then pay with Afterpay and enjoy your purchase while paying across four installments. Among those who accepts Affirm are
Urban Outfitters, another popular clothing store with Afterpay users, as is SHEIN, which is by far the most popular store for affordable women's fashion.
Furniture Stores that Accept Affirm
We all know buying a new mattress or living room furniture is a big expense! Now with new stores like Avocado Mattress that take Affirm. Refresh everything from your dining room furniture to getting a new couch or even curtains at West Elm using Affirm financing.
Got a student heading off to college? The #1 brand for college mattress toppers SleepyHead also takes Affirm!
Pet Care Stores that Accept Affirm
The trending new cat litter box Litter Robot now takes Affirm! Never scoop again with the highest-rated WiFi-enabled, automatic, self-cleaning litter box for cats. Since 2000, over 750,000 happy pet parents have upgraded to the Litter-Robot!
Shoe Stores that Accept Affirm
Shoe fanatics rejoice, there are are many online shoe stores now offering Affirm from running shoes to must-have designer brands! Adidas is a classic favorite for running shoes to style choices, for work shoes or dressier options try the styles of Cole Haan with options for both men and women. Tamara Mellon is our choice for fashionista who wants stunning leather boots and shoes.
Jewelry Stores that Accept Affirm
Whether you're looking for diamonds or fashion accessories, we've got you covered. Be sure to check out our list of stores that take Affirm for the bride and groom, from ethical jewelry favorites like Brilliant Earth to wedding ring experts Allurez or giftable zodiac inspired jewelry from Silpda.
In the mood for something a bit more unique? Shop fashion forward jewelry brands like the go-to Hip Hop brand Frost NYC or trending pearls from the Pearl Source. Don't forget, Affirm financing makes it easy to buy what you want now and pay for it over time. So go ahead and splurge a little – your future self will thank you!
Want to know how Affirm works and if it impacts your credit? Learn all about Affirm in this guide.
How to use Affirm in stores
There are few options to use your pre-approved Affirm credit in stores from the Affirm virtual visa card to the soon to be released debit card.
Affirm Virtual Visa Card
When you're approved for a loan with Affirm either on the website or app you are given the option to have your approved loan amount loaded onto a virtual Visa card. This virtual card is for a one-time use only at a merchant of your choice as long as they accept Visa. Use the virtual card number to make your purchase either online or in-store.
Affirm Debit Card
Soon you will be able to apply and use the Affirm Debit+™ card for everyday shopping in person at your favorite retailers. Choose to split eligible purchases at 0% APR in the Debit+ app.
Join the waitlist on Affirm.com to find out when it launches!
What Companies Use Affirm?
Curious about what companies use Affirm for their financing options? Look no further! The list of Affirm-accepting stores is continually growing, encompassing various categories such as electronics, fashion, furniture, and more. This comprehensive network ensures that you can conveniently find the products you desire and explore flexible payment options, paying over time while adhering to your budget.
A | B | C | D | E | F | G | H | I | J | K | L | M | N | O | P | Q | R | S | T | U | V | W | X | Z
Looking for more Buy Now Pay Later options? Read our guides to stores that accept Bread or Klarna for payment.

More interested in Apple Pay? We've got a full list of Apple Pay supported stores here.

Are we missing any Affirm stores? Leave a comment, and we will update the list as we learn of more stores that accept Affirm for payment. If you are a merchant that would like to be added or recommended, please contact us.