This is a Sponsored Post written by me on behalf of Freschetta.
All opinions are 100% mine.
If you ask any of my friends or family (or any of my loyal blog readers) what my favorite food is, they should all know that it's PIZZA! I seriously think I could eat pizza everyday, no lie. Sure, I get teased about being a pizzaholic and how I'm clogging all of my arteries with cholesterol, but my defense is that pizza contains all four of the major food groups, so it's the perfect lunch. Or dinner. Or supper, as we call here in hickville.
My absolute favorite pizza is from Old Chicago. I only wished I lived closer to one (or maybe my waist and my pocketbook don't) as the closest franchises are 2.5 hours away. So my favorite local pizza franchise (still 20 minutes away) is Pizza Hut, and they don't deliver here (probably another good thing). My other choices are Godfather's or Domino's. I wish we had a Papa John's or Little Caesars nearby.
I used to make a lot of homemade pizza, but the cost of ingredients for the dough, sauce, meat and cheese have risen so much, that it is usually cheaper to buy pre-made frozen pizzas. My favorite frozen brands are Tombstone and DiGiorno (stuffed crust is a bonus). I detest Totino's and Tony's.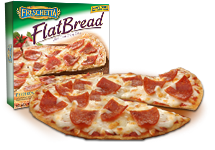 I recently had the opportunity to try the new Freschetta FlatBread pizza. The idea of being asked to review pizza is right up there with being asked to review new shoes! I found the sauce to be slightly sweeter than others, but it was alright and definitely edible.
Being the cheapskate that I am (and the fact that Freschetta is slightly higher priced), I would probably only buy Freschetta if it was on sale and I had a coupon! Luckily it is on sale at Hy-Vee this week, and there is a $1 off any Freschetta pizza printable coupon available!
What's your favorite pizza pie?