My daughter, Tatym's glasses broke yet again! After having them repaired four times already, I cringed at having to invest more money into them, but they proved inoperable.  I decided to try ordering eyeglasses online as they are a mere fraction of the price of purchasing from an optical store.
I chose 39DollarGlasses.com because I know they have been in business for as long as I've had this website (over ten years).  And even though $39 sounds inexpensive enough, I only paid $29 because you can get an automatic $10 off any order through this link (Use Code: SUNNY for $10 or 10% off whichever is higher).
Tatym (with my help) chose the Madrid Plastic Eyeglasses in brown.  We printed out an actual-size picture of the frame to compare to her current frames and found them similar.  I had a copy of her prescription to enter in the details, but the script did not show her "PD" number.  Since it was after business hours to call the eye doctor, the website shows you how to measure the distance between the centers of the pupils (when we printed out the frame, it also printed a ruler to use).
I chose to pay for Overnight Shipping ($16.90) so we'd get them the next day, but regular shipping is only $4.95 or FREE is you order two or more pairs. So when the UPS guy arrived today with my order, I went and got Tatym out of school and headed to our eye doctor to have them check to make sure the prescription was correct and have them adjusted to fit her.  They said the prescription was PERFECT!  I admit I was a bit leery of ordering glasses online, so I was very happy and relieved, and now I would wholly recommend to anyone to order from 39DollarGlasses.com!
They are still going to try to find a discarded pair to put her old lenses in (since they are practically new and cost four times what I paid for whole new pair of eyeglasses) to keep as a back-up pair (just in case)!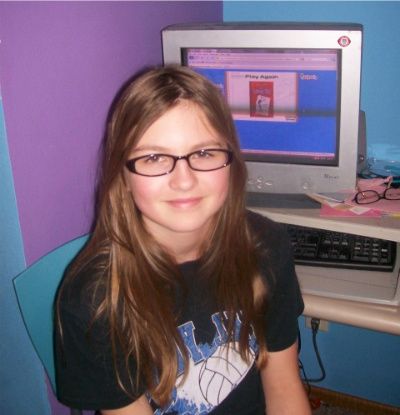 After Tatym helped me shop for my Walgreens deals, I took a picture of her in her new glasses.  She was surfing the FunBrain.com website, "A Smart Place to Play" online, as recommended by teachers and educators.