My mom has been recycling everything for years as she lives in the country with no trash pick-up service available. Twice a year, she loads everything up and hauls it to a recycling center 30 miles away.
It always looked like too much work for me to see her hand wash every bottle and can, so I admit the only recycling I've been doing is saving aluminum cans for cash (all those Diet Dew cans add up).
Well, this past week at my Kiwanis club meeting, Meghann Buresh, the recycling coordinator from Green Fiber was our speaker. And I got inspired to clean my walk-in pantry and start recycling!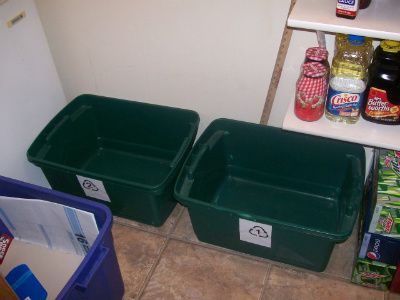 Turns out Green Fiber has collection bins by our high school, which is only blocks away from where we live.  They accept all types of paper (ie newspapers, magazines and cardboard, like grocery and HBA boxes).  They use the paper to produce cellulose insulation, and the school in return raises money, so it's a win/win situation.
They also collect #1 Polyethylene Terephthalate (PETE) plastics (i.e. soda bottles, peanut butter jars, cooking oil bottles) and #2 High Density Polyethylene (HDPE) plastics (i.e. detergent bottles, milk jugs).  Of course, my first question was, "Do we have to clean them out?"  And the answer was NO!  Although many people do at least rinse them out a bit with water if they plan to keep them around from awhile (i.e. so those milk jugs don't smell like rotten milk) before donating.
I also decided I'm going to save all my plastic shopping bags as there is a big donation box to collect those in the main entrance of Walmart. I'm also going to save my empty egg cartons for the farmers that raise chickens for eggs.  I feel better already about helping the environment.  And with our trash collector considering making us pay per bag of trash, this will save me money as well!
Won't my mother be so proud of me?!