I am so glad I am past the "bottles and diapers" stage with my kids, but I know many of my friends and family with babies, so I'm always on the lookout for diaper deals.  And this has got to be the best one yet with no coupons to clip and no need to even leave the house…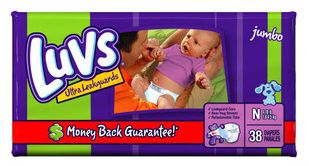 Get 8 packs of Luvs Diapers for only $3.87 each with Free Shipping!
Visit Diapers.com
Add 8 packs of Luvs Diapers Jumbo Packs to your cart @ $6.99 each = $55.92.
Apply Promotion Code: AFF10 for $10 off $49 (this code is valid for new customers only) to make total $45.92.
Mail in rebate to receive $14.97 refund (or else you will receive a subscription to Parenting magazine).
Total price paid is $30.95 divided by 8 packages = less than $3.87 per pack!
You can find Luvs Diapers for the best price on Amazon.