The saying "you are what you eat" was definitely true for me when this Halloween photo of me was taken. Most of you know that pizza is my absolute favorite food. I swear I could eat pizza every single day. Imagine my utter delight to be able to get a pizza costume from Stupid.com! I even "stuffed the crust" with pillow batting.
Since I'm also a thrifty shopper, I like to save money on my pizza purchases, whether it be ingredients to make homemade pizza, buying frozen pizzas (Tombstone and Digornio are my favorite), ordering carryout to go or eating out (no one delivers here in hickville, boo hoo).  And, of course, I usually find my pizza coupons on the internet!  You're hungry now for pizza, aren't you?  I can tell! Print out some pizza coupons to eat out tonight!
Featured Pizza Place: Primo Pizza Sante Fe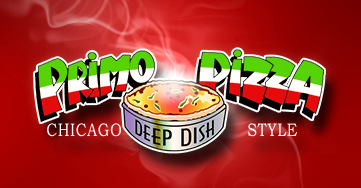 If you ever get the opportunity to visit Sante Fe, New Mexico (or are lucky enough to live there), I recommend trying Primo Pizza's Chicago style pizza for the best Santa Fe Pizza. Their famous recipe dates back to the late 1950's when "Chicago Style" pizza was becoming a hot commodity in Chicago.
Primo Pizza is owned by young entrepreneur Josh Martinez and is located at 97 Metro Blvd in Santa Fe, New Mexico (87508), just up the street from the Allsups off of East Frontage Rd.  You can also call ahead for take out or delivery at phone # 505-438-7000 – you'll be glad you did (and stuffed, too)!