Disclosure: This post may contain affiliate links, meaning we get a commission if you decide to make a purchase through our links, at no cost to you. Please read our disclosure for more info.
Have you ever bought a product from an online store only to be disappointed because it broke within the first year? Typical manufacturer's warranties don't cover accidents and only cover minimal manufacturer's defects which are hard to prove. Extended warranties do offer protection but are typically considered to be overpriced.
Mulberry set out to change the way consumers are protected. With their protection plan, you are protected even if you trip and fall, breaking your product.
Mulberry is a free and affordable product protection plan you get through a Chrome browser extension.
Known as MulberryCare, you get free protection against accidents and defects. There's no complicated process to go through or difficult evidence to prove before they'll cover your incident. Mulberry offers pain-free repairs and replacements when you need them the most.
How Does Mulberry Work?
Using Mulberry is easy with these simple steps:
It's free to download. Do this before you shop.
2. Shop at Your Favorite Stores
If there's a Mulberry protection plan available, it will pop up on your page, or you can click the Mulberry icon and enter the name of the product you're considering to determine if it's eligible.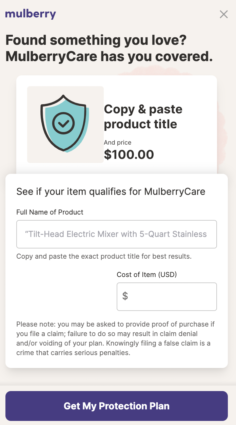 3. Explore Your Plans
If MulberryCare is available on your product, the extension will display your plan options. You'll see how long the care lasts, what it covers, and the cost. If you select a plan, you'll enter your email address to set up your free account. 1 year plans are completely free!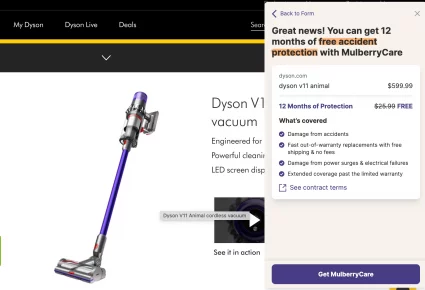 (Here is an example from my search for a new Dyson vacuum cleaner, this items qualifies for a free 1 year product protection plan from Mulberry per the Chrome extension).
4. Confirm Your Purchase
Once you select a plan, you complete your purchase with the retailer. This is important. Next, you must log into your Mulberry dashboard to confirm the purchase. You have only 7 days from the date of purchase to do this or you risk losing your coverage.
5. Upgrade Your Mulberry Insurance
You can choose to upgrade your plan, even if you didn't confirm your purchase within the first 7 days. You have 30 days to upgrade your protection to a paid policy that lasts longer and offers the same great coverage.
What is a Product Protection Plan?
A Product Protection Plan is much more than an extended warranty. A PPP protects your purchase from any issues including accidents, something extended warranties may not cover.
A Product Protection Plan covers things like tripping and falling causing your product to break. spills, power surges, cracks, pet damage, burns, rips, and tears. Typical extended warranties cover only manufacturer's defects and even those are hard to prove, which is why a Product Protection Plan is key.
How Much Does Mulberry Cost?
The first 12 months of Mulberry protection is free! That's right, you can activate coverage for nothing.
Of course, Mulberry hopes you'll upgrade your plan to a longer-term plan, which costs money. If you don't, though, you get accident coverage for your items for 12 months if you activate it in the dashboard like we discussed earlier.
Why is Mulberry a Chrome Extension?
It may seem annoying that Mulberry is a Chrome extension, but it's simply for convenience. Think about it, if you're shopping for items like normal, you probably turn down any protection plans, right?
You either see that the extended warranty is too expensive, or you assume you won't need it. With the Mulberry extension, you can see while you're shopping what's available to you to help you make more informed decisions.
Everyone gets free coverage on eligible products for 12 months. You can also extend your coverage for affordable prices and get coverage for even longer, which is great for big ticket items like TVs, washers/dryers, and furniture.
What Products are Covered under Mulberry?
Mulberry protects the products you care about the most (and that cost the most). They work with the top retailers and cover products including:
Furniture
Rugs
Mattresses
Electronics
Jewelry and watches
Bags and luggage
Appliances
Fitness equipment
The Benefits of Mulberry Protection
Accepting an extended warranty can feel overwhelming, but Mulberry has many benefits including.
It's Free
You can accept completely free coverage for 12 months. You don't have to pay a dime if you don't like buying extended warranties even though Mulberry is a protection plan. Their prices are affordable if you decide to upgrade.
You Get Coverage for Real Life
Extended warranties have so many restrictions on them that it's impossible to make a claim or get coverage. Mulberry protection provides coverage for the 'real events' in your life. Spills, tripping and falling, and power surges are real issues we face every day, and they cover them.
Transparent Coverage
Mulberry is upfront with you about every detail of the contract. You'll know upfront how much it costs, what is covered, and what you can expect. There aren't any sneaky surprises or unpleasant fees.
24/7 Support
Mulberry walks you through every step. If you have a question, they are there for you 24/7. You don't have to worry about being confused, getting taken advantage of, or buying the wrong plan. They are there for you all the way.
Final Thoughts
Mulberry is a great way to protect the big purchases in your life. Even if you only take the 12-month free coverage, it's better than nothing, right?
Mulberry protection plans, though, are affordable, protective, and help you get what you want out of your products. There are no more hoops to jump through or problems to solve. If your item breaks, they cover it, plain and simple.
Download the Chrome extension to get the most out of your purchases today and see just how good Mulberry product protection can be.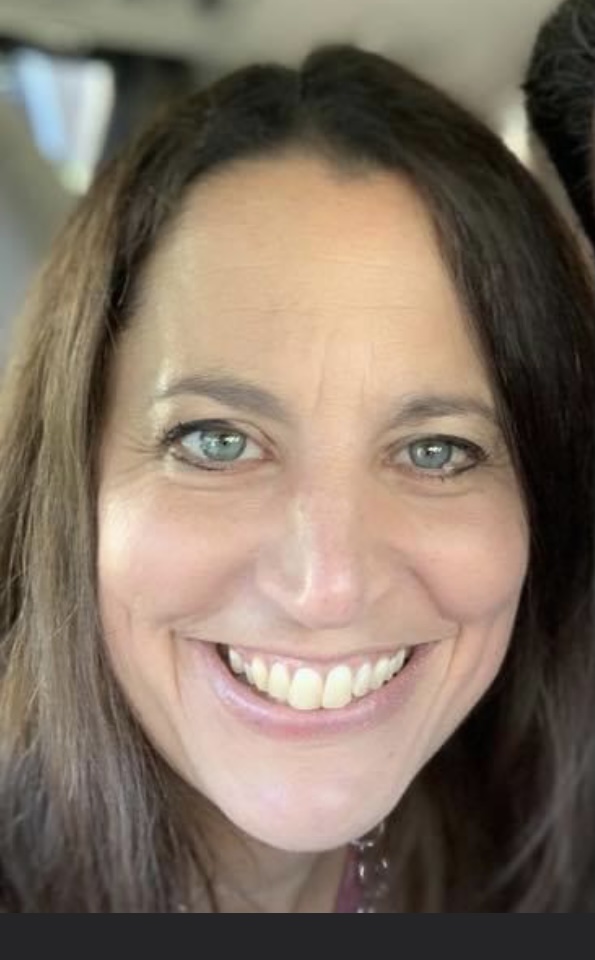 Kim is a personal finance expert with a Bachelor's degree in Finance from the University of Illinois at Chicago. Kim enjoys helping people take charge of their personal finances and has been doing so with her freelance writing for 15 years. She loves helping people break down difficult personal finance topics, helping them make smart financial decisions that make them feel empowered.