Disclosure: This post may contain affiliate links, meaning we get a commission if you decide to make a purchase through our links, at no cost to you. Please read our disclosure for more info.
Got a pile of books lying around the house that you wish you could turn into cash?
We have all been there from old college textbooks to book club of the month books and kids books that your children no longer read. Now it has never been easier to sell books for cash online.
When it comes to selling used books online, there are a number of different platforms that you can choose from and we've rounded up 26 of the best, beyond the usual known places like eBay and Amazon.
These sites offer a wide selection of books for sale and make it easy for buyers to browse your listings. These sites generally have high traffic and offer various tools and services to help you sell your books efficiently and effectively.
Ultimately, the best place to sell your used books will depend on your goals and preferences as a seller, so be sure to do some research before deciding where to list your titles. Regardless of which platform you choose, however, you can be confident that there are plenty of potential buyers out there who are looking for the kinds of books that you have available!
I was extremely happy to find over 25 websites online that buy books for cash.
How Can I Get Rid of Old Books for Cash?
You simply enter the ISBN number of each book. If they are accepting your book, they will give you an instant price quote. Print a free postage paid label (so you never have to pay for the postage). Send in the book(s) and get paid cash! I have personally used all of the following websites to sell books for cash (as each one accepts different books, or one may offer a higher payout than the other):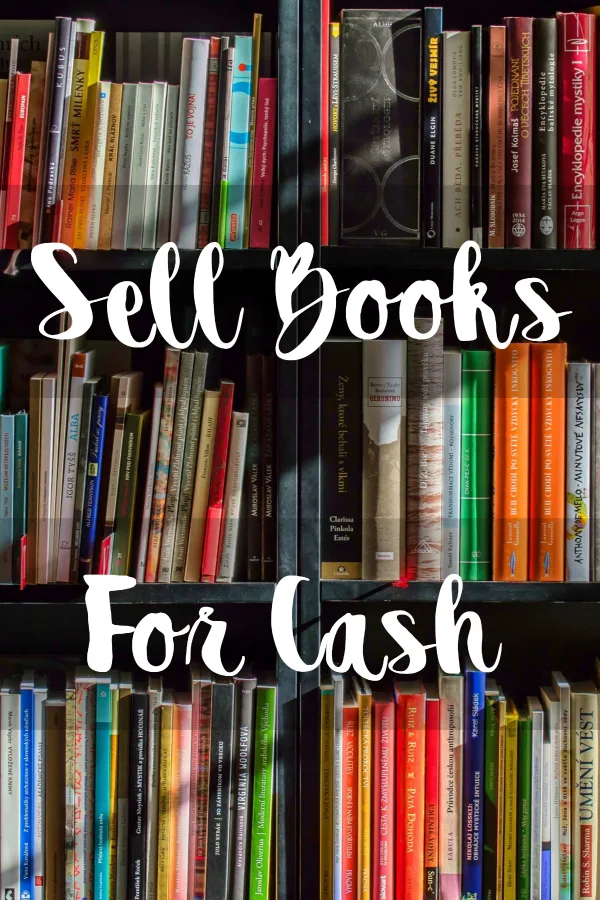 Where to Sell Your Books Online for Cash
Here is an alphabetical list of 26 sites where you can sell those old books for cash!
AbeBooks is an online marketplace listing millions of new, used, rare and out-of-print books and other collectible items, as well as cheap textbooks. We connect you with thousands of professional booksellers in more than 50 countries worldwide.
Get your items listed on the world's largest online marketplace for books, art & collectibles. Connect with buyers from across North America by listing their preferred items in one place.
At AbeBooks we've got everything you need to sell effectively – find out more about how it works today or sign up now and take advantage of our low fees structure (which includes payment processing)!
Open a seller account on Amazon and start selling those used books you have lying around and turn those kids books, old book club reads, college textbooks and more into cash! Start your Amazon Seller account here.
Founded in 1999, Bookbyte has been a West Coast staple for used textbooks. They are now one of the largest retailers from that region. Get started by selling your used textbooks through Bookbyte!
Bookfinder specializes in textbook buyback. Before you go to the college bookstore and get only a fraction of what you paid, check BookFinder.com's buyback price comparison to sell your textbooks for the most money. You can even sell novels, cookbooks and other types of books; our partners buy up to 1 million titles. The textbook buyback partners provide free shipping labels so you don't worry about shipping.
5. Bookmob Canada (Out of Business, 2022)
BookMob is Canada's Textbook Destination. We feature the largest selection of cheap, used textbooks in the country, as well as textbook rentals.
BookScouter is here to help you find the best price for your textbooks. With a simple search, they compare prices from 20+ booksellers and 30 buyback sites in just one click! Scout on over with confidence knowing that more than 2 million students rely upon this platform every semester too.
Become a Bookscouter Pro and start making money with book selling. Specifically for those who want to maximize their profits from selling and buying books.
Sell Your Books Online – We Pay for Old Books. Subscribe to coupons, promos and BooksRun deals to get more money from your old textbooks!
8. Bookstores.com
Sell your books online for store credit, check, or PayPal. Buybacks over $15 ship free! Sell textbooks, bestsellers, video games, TV show DVDs and other media on Bookstores.com and starting making cash from your media collection.
Campus Book Rentals provides students with affordable textbooks, empowering more than a million students to study cheaper. Our great prices make it easy for you to rent your new or used textbook for just the right amount of time. And if you do choose to buy your books from CBR or somewhere else, our sellback allows you to get cash for books you no longer need while helping keep costs low. Sell your books via their program BookSellBack.com.
Compare Textbook Prices & Save Up to 90%
Cash for books buys all sorts of books, including used ones. Shipping is free too! Get an online quote for fast cash back today at Cash4Books.
To sell your books on Chegg, go to their page sell textbooks. The best place to buy used college books is online from Chegg. We have been in the used textbooks market for around 15 years.
13. CKY Books (Out of Business 2022)
Click "Go get my Textbook" to view an instant price for your New or Used College Textbooks. Thousands of students buy & sell textbooks online.
Decluttr is the easiest way to make fast cash for your old books. They accept hardbacks and paperbacks, from textbooks, to novels, kids books, and they even offer book recycling! Explore Decluttr book buying service here.
16. Ebay
Time to dust-off that Ebay account, login and get the app on your phone. Sell those old textbook, magazines, media and more on Ebay, it is always easy and financially rewarding. Sell Your Books On eBay – Snap It, List It, Sell It – eBay.
Goodbye Extra Stuff. Hello Extra Money. Start Making Money Today. It's Never Been Easier To Sell Your Books. List Your Items Today.
Don't Wait. Get Cash For old textbooks, calculators, DVDs and other media. Ships Free, Fast Cash. Call Now! eCampus Sell Books is Easy here, Fast Cash, Ships Free. Free Shipping. Instant Quote. Fast Payment.
Welcome to FirstClassBooks.com! We are your premier online source for buying and selling college textbooks. Get the best price for your books!
19. Glyde (Out of Business 2022)
Half Price Books has new and used books, textbooks, music, movies, comics and more both online and in stores. We pay cash for books, textbooks, CDs, LPs. Check out there site for the Stuff they Buy.
The new answer to marketplace selling! Mercari is your marketplace. It's the perfect place to declutter all those books and discover items that are uniquely you. Say 'goodbye' to your dusty textbooks, kids books and more!
Thank you for your interest in selling your books to Powell's! You can sell your books online or in our stores at the used book buying counters. Payment options include Paypal or store credit.
Sell used books and textbooks to SellBackBooks.com! We make it simple, fast and profitable for you to sell books. You don't want to be stuck with old textbooks on your shelf that you are never going to open again, so get rid of them! Sell textbooks back to us, and get extra cash in your pockets! SellBackBooks.com makes it easy to sell textbooks online for more money than your campus bookstore will pay! SellBackYourBook.com – Pays quickly! I have gotten three checks from them already within a week of sending in my books!
Sell your used textbooks for the most cash back! Create a textbook buyback quote and get your free shipping label instantly. Quotes good for 30 days.
Our Three-Step Buyback Process Makes It Quick & Easy To Turn Your Textbooks Into Cash at Textbooks Rush! Enter Your Book's ISBN Number For An Instant Quote. We Even Pay for Shipping! Cash In 3 Steps. Cash For Books. Get A Free Study Brief. Search By ISBN Number. 30 Day Guarantee.
TextbookX.com is the best source for buying and selling new books. TextbookX.com sells new and used textbooks, reference titles, and bestsellers at discounts 10% to 80% off retail prices. SELL YOUR BOOKS, MAKE MONEY!
Earn up to 2 times more when selling your books back on our marketplace
Sell your books at any time — you name the price
Get more cash for your old textbooks with Velore books buyback program. Sell textbooks online and get the most cash back on over 1 million products!
Tips: How I Sell Books for Cash
When I moved into my new house four years ago, many totes ended up in a basement storage room. I recently found six totes full of just books (most of them were free books I've acquired), and I wanted to sell books for cash!
I figured since they haven't been read (or even thought of) in four years that I could get rid of them. I know that books don't sell well at garage sales, so I originally planned to sell them all on Half.com. But the problem with that is they may not sell so you are stuck at storing (and remembering where they are) when and if they do sell.
Tips to Sell Books for Cash On Amazon or any Book Selling Site
1. Make A Spreadsheet with ISBN codes
I would suggest (I wish I would have done this first) to make a spreadsheet or even just a list in Notepad of all the ISBN numbers of the books you want to sell. That way you can just copy and paste the list into each of the different websites for quotes on which books each will buy.
*The books that were not accepted at any of the places above, I did list on ebay.com (formerly Half.com) and Amazon.com and my daughter, Tatym has been alphabetizing them for me as seen above. I set my price to be the lowest for a better chance of selling, and we have sold an average of three to four every day so far.
I have even listed groups of children's books on eBay.com, such as all Pokemon, Barbie, Barney, etc. with good success. There is no charge to list your items if the starting price is under $1. So I start my auction listings out at 99¢!
2. Save Padded Mailer Envelopes
I have been saving all of the padded mailers and small boxes I receive in the mail (from free samples and such) to reuse for packing the books I sell and mail out. I print my shipping labels (with postage) directly on half sheet shipping labels which makes it fast and easy.
3. Choose the best USPS Mail Tier
Tip – if the book is lightweight, it may be cheaper to send it First Class instead of using the Media Mail rate (plus your recipient will receive it faster)!
Anyone have any additional resources for selling books online for cash?