Ok, so my singing isn't as good as Evan White and Jason Sadler.  And I definitely don't have the musical talent of Jim Kukral.  But Jane Buck made me do it.  Blame her.
But I did want to thank everyone for all of the birthday wishes I have received via email, text, phone calls, Facebook and Twitter. I feel lucky to have so many caring friends and family!
Today has already been quite productive, and it's still early!  I got my stuff ready for my Healthy Choice House Party…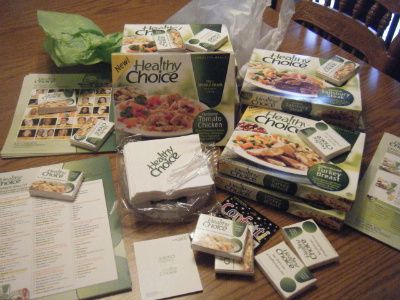 And I brought birthday treats today to my Kiwanis meeting. Since I had a small fire in my oven, it no longer works!  So, I opted for No Bake Cookies (which obviously require no baking), and have had a few requests for the recipe, so here goes…
No Bake Cookies Recipe
INGREDIENTS:
2 c. white sugar
3 TBsp unsweetened cocoa powder
1/2 c. margarine
1/2 c. milk
1 pinch salt
3 c. quick cooking oats
1/2 c. peanut butter
1 tsp vanilla extract
DIRECTIONS:
In saucepan, bring sugar, coca, margarine, milk and salt to a rapid boil for one minute.  Add quick cooking oats, peanut butter and vanilla. Mix well. Working quickly, drop by teaspoonfuls onto waxed paper and let cool.
I usually make a double or triple batch because everyone loves these at my house!
++++++++
Now to get ready for the rest of the day! What should I buy myself for my birthday? I'm torn between these shoes and/or this shirt!