Disclosure: This post may contain affiliate links, meaning we get a commission if you decide to make a purchase through our links, at no cost to you. Please read our disclosure for more info.
There's nothing quite like a beach vacation.
Glorious weather. Rest and relaxation. The list goes on and on as to why the beach is king when it comes to travel.
The problem? Beach vacations are oftentimes associated with a high price tag.
Between scoping out the right spot to handling accommodations, taking a trip anywhere in proximity of beach blow out anyone's travel budget if they aren't careful.
The good news? You don't have to sacrifice your dream of taking a beach vacation just because you're strapped for cash.
Instead, consider the following seven frugal travel tips for visiting any given beach to help you plan your visit to paradise.
1. Stick to a Single Beach
This might seem like a no-brainer, but it makes much more sense to stick to a single beach versus trying to bounce from city to city. Doing so will not only help you save on transportation from Point A to Point B, but also allow you to explore additional attractions that any given beach town has to offer.
Maybe that means taking a riverboat tour in Ft. Lauderdale or perhaps checking out from of the freebie attractions in Central Florida.
Either way, choosing one beach will make it easier to plan your trip and likewise save money in the process.
2. Save Cash by Sticking to the East Coast
Although "west coast is the best coast" might roll off the tongue, there's no denying that spots such as of Florida Panhandle or Myrtle Beach in South Carolina will burn much less of a hole in your pocket than the likes of California.
Additionally eastern states traditionally have cheaper flight options versus the west coast if a road trip isn't possible. Oh, and there's no denying the things to do an see at the best beaches on the east coast including those beyond Florida.
3. Split Your Accommodations
Another seemingly obvious tip but one that's easy to overlook. Traveling in a group and splitting any hotel is a low-hanging way to save while traveling to a beach town. Chances are you have friends or family who are likewise dying to see the shore: packing into a hotel room during your stay is a worthwhile sacrifice to make it happen.
4. When in Doubt, Pitch a Tent
Speaking of accommodations, one of the most notable ways to save on a beach vacation is by foregoing hotels entirely.
Camping is a totally underrated way to enjoy the beach, allowing you to stay closer to nature and avoid needless spending in the process. Although you may not be able to camp on the beach proper depending on where you're staying, chances are there's a nearby campground for you to stay for next to nothing.
For example, consider the myriad of camping spots on Florida's coast including those in St. Augustine and St. Petersburg. Given that beaching camping is highly desired for both the experience and low price tag, strive to book well in advance if at all possible.
5. Be Wary of Dining Out
Spending on food can easily crush any semblance of a budget for your trip. Although you can certainly plan for some cheap meals out, don't neglect bringing your own food to take care of breakfast and lunch for the sake of saving money. For example, you can easily stock up on meal bars and the essentials to make sandwiches to hold you over until dinner.
In addition to packing a mess-free beach meals day-after-day, don't just stroll into a random restaurant and expect a deal when you do eat out. Businesses in tourist towns know that their visitors have money to blow: do your homework on sites like Yelp! and TripAdvisor before setting foot anywhere.
6. Don't Bother With Beach Shops and Rentals
On a related note, don't fall prey to pricey beach shops or vendors. Why pay $10 for sunblock or $30 for a beach chair rental when you can just bring your own from home. Again, warehouse stores are your friend in addition to sites like Amazon which allow you stock up on your beach essentials beforehand.
7. Try to Visit the During Offseason
Although Spring Break or summer might seem like the "ideal" time to visit the beach, many beaches can honestly be enjoyed year-round.
You may be surprised at how balmy some beaches stay throughout the early autumn and even the late winter. Some other key reasons to take a beach vacation during the offseason include fewer crowds and cheaper accommodations including flights and hotels.
Although beach vacations are associated with luxury, they don't have to cost an arm and a leg. Hopefully these travel tips have served as some much-needed motivation and inspiration for booking your beach vacation – no matter where you decide to go, make sure to have fun and soak up some sun!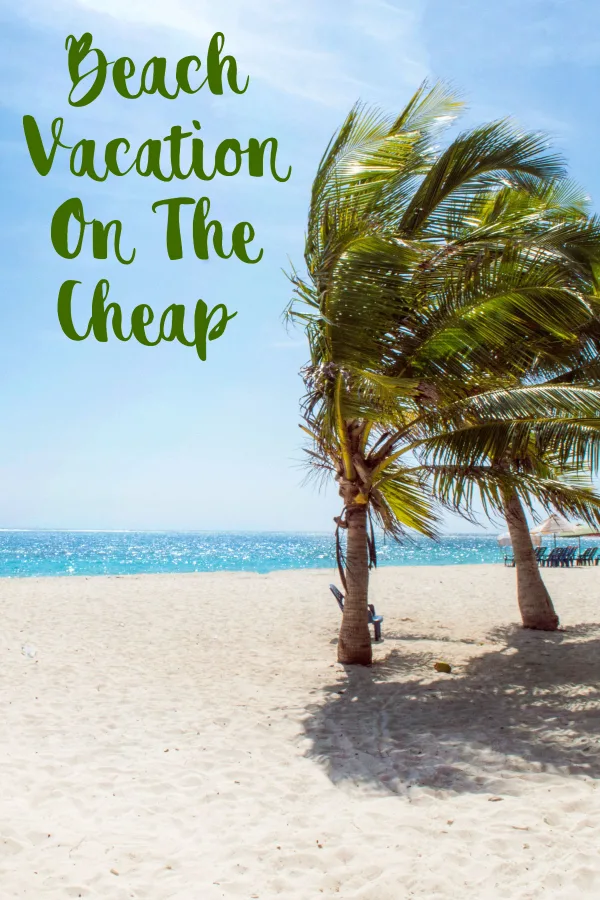 Still can't afford a beach vacation? Book a vacation now and make payments.