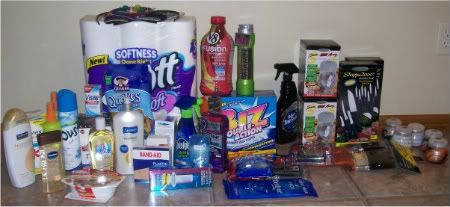 I was so excited that the nearest Kmart store to me (Yankton, South Dakota) was finally participating in offering double coupon up to and including $2 (limit 25 coupons per person per day)! Sioux City, Iowa is the same distance, but is not participating. To see if a store near you is participating, click on Kmart's Weekly Ad, and there will be a big red square announcing Super Double Manufacturer Coupons.  Some regions are even boasting Triple Coupons! The event runs through Saturday (4/25), so I'm hoping to make another run after I reorganize and print new coupons (yes, they accept and double internet coupons, too)!
The above picture shows just some of the loot I got for free or nearly free today! In the middle of the picture is Biz Double-Action Laundry Stain Fighter (Money Back Guarantee) and Healing Vitamin Shampoo (Try Me Free Hangtag).
The items to the left are deals from Kmart.  I printed out Kmart's Best Deals from Common Sense with Money and highlighted which deals I had coupons for.  Plus I brought along my coupon box and rummaged through each category in the store to score some more deals.
The items to the right are Free After Rebate items from Menards (Click This Week's Flyer to see all) I would have gotten more, but they were sold out of many items.
I also went to Walgreens, but forgot to add those purchases to the picture. Some of the deals I got were…
— 7Up, Sunkist, A&W Rootbeer 3/$11 – $1 peel-off instant coupons – $5 back in Register Rewards (looks like I'll be doing this deal again, but warning if you use those RR earned on the same items, they won't print again)
— Natural Dentist Mouthwash w/Free Bonus Toothpaste $7.99 (the mouthwash alone is $9.99 at Target) – $2 off coupon – $10 rebate
— True Shimmer Chapstick $1.99 – $2 back in Register Rewards
They were sold out of Skintimate & Edge that also are offering Register Rewards.
— Hershey's Bliss Chocolates (my daughter loves these) 2/$7 – $1 off coupon (can print multiple times) – $5 EasySaver Rebate.  I thought this was great deal ($1.25/bag) until I saw Kmart has them on sale for $2.99, so they only would have been 99¢ after doubled coupons!  See why I have to go back?!
Also, if you plan to go to Walgreens tomorrow, they have a printable coupon valid 4/22 only for 15% off store items plus receive a free reusable shopping bag for Earth Day!
Happy Shopping!