Disclosure: This post may contain affiliate links, meaning we get a commission if you decide to make a purchase through our links, at no cost to you. Please read our disclosure for more info.
I just returned home from a trip New York City  – one of my favorite cities to visit! I could see myself living there if I didn't have kids, as I love the hustle bustle.  And since I don't like to drive, I like the idea of walking and/or using public transportation to get everywhere.  The only main drawback is the cost of living which is way higher than the middle of nowhere here in Nebraska!
New York City is known for having an abundance of celebrities sitings, but I got a glance at my first celebrity of the trip on my layover in Memphis – country music singer hottie Brad Paisley!
Then when I arrived in NYC, I was soooo jealous to hear that my friends had dinner at Molyvos, where Chris Noth, aka Mr. Big, was also dining!  I am a huge Sex and the City fan and was so disappointed that I wasn't there to see him! They all said he is even better looking in person! Did you know they are making a sequel movie?  Anxious to see the storyline of that one.  Anyway, back to the story at hand…
One of the nights I was there, I toured the New York harbor aboard the luxury yacht Valiant courtesy of Market Leverage.  Dinner was prepared by Top Chef's finalist Casey Thompson!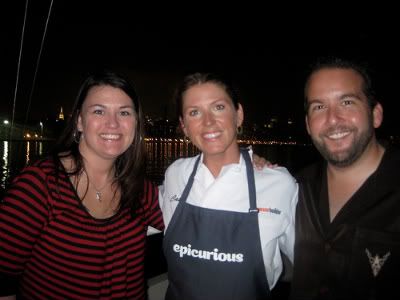 My "affiliate husband" Jon Levine* (a star in my own eyes) and I posed for a picture with Casey. She even got her own camera and said she'd post a pic of us on her blog!  Jon and I met at a conference a few years back and have a great time hanging out together a couple times per year.
Next up, I got to meet Nicole Facciuto, host of HGTV's Red Hot and Green.  Nicole actually used to be roommates with Jon when he lived in New York City (he now lives in Miami) and thus introduced us.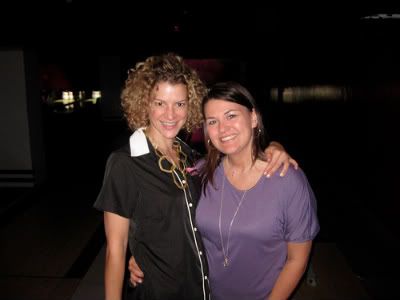 I told Jon he has such cool friends (me included)! I had so much fun hanging with Nicole and hope to able to see her again!  The pic above was taken while we were bowling, courtesy of BowlingShirt.com and GTO Management.
Speaking of BowlingShirt.com, they have a hot, Hot, HOT offer that ends tomorrow (8/14/09)…
Extra 50% off ALL orders! Code: GUTTER
Get the Leopard Print Purse (shown left) for only $2.47 with Coupon!
They obviously have more than Bowling Shirts! They have Poodle Outfits, Retro Apparel, Hollywood Legend Items, Route 66 Car Club items and much, much more! Bowling Bag Purse: Leopard Print (shown left): search for 10MPURSELE *Coupon excludes Crosley Radios, Bowling Balls and Custom Printing.
After four fun filled days in New York City, I am home safe and sound. I lost my voice while there, so if you find it, please overnight express it back to me!  I am extremely exhausted, so it may be be a few days before I catch up on emails on such. But I would do the whole trip over again in a heartbeat! Watch for future posts to hear more about my trip (aka shopping on Canal Street in Chinatown) soon.