Disclosure: This post may contain affiliate links, meaning we get a commission if you decide to make a purchase through our links, at no cost to you. Please read our disclosure for more info.
If you've received Amazon gift cards and can't find what you're looking for on Amazon, you may wonder where can I use Amazon gift cards besides Amazon?
While your options are somewhat limited since Amazon gift cares are limited to Amazon products and services, you have a few options. Before we get into where you can use Amazon gift cards, it's important to note that they cannot be used as a payment method when using Amazon Pay. You can only use them to buy goods and services sold on Amazon and other related sites.
Where can I buy Amazon Gift Cards?
Before we dive into where you can use Amazon gift cards, it's important to know where you can buy them from supermarkets and convenience stores to Amazon owned stores like Whole Foods. Unfortunately, you can't buy Amazon gift cards at Target like most people hoped since RedCard holders save 5% on their purchase.
Here are some retailers you can buy Amazon cards at:
7-Eleven
Albertsons
Butera Market
Circle K
Dollar General
Food Lion
Fry's
Hy-Vee
Kroger
Whole Foods
You can also trade your coins in at a Coinstar kiosk for an Amazon gift card. You pay no fees and turn your coins into spendable cash!
You can also use third-party websites to get great deals on gift cards. Sometimes you may even get them at a discount.
Do Amazon Gift Cards Expire?
Fortunately, any Amazon gift cards issued after October 1, 2005, do not expire. You can use them all at once or carry a balance for years and your funds will still be available.
Recommended Ways to use your Amazon Gift Card
If you're wondering how where can I use my Amazon gift card besides Amazon, here are some great ways. While they all have to do with Amazon in some way, they don't all require you to buy products on their website.
1. Buy a Prime Membership
If you shop on Amazon often, use your gift card to buy your Prime Membership. Not only will you get free shipping on all orders (some even deliver the same day), but you'll have access to Prime Day which is Amazon's largest shopping event of the year.
2. Buy any of the millions of products sold on Amazon
Of course, the easiest way to use your Amazon gift card is to buy products sold on Amazon. If you are on the hunt for a specific product, always check Amazon too. You may find it cheaper and/or be able to use your gift card to pay for it. Most products ship fast and if you aren't a Prime member, they ship free over $25.
3. Amazon Kindle
If you are an avid reader, use your Amazon gift card funds to buy more books for your Kindle. You can also use your gift card to subscribe to Kindle unlimited, so you have access to thousands of books a month.
4. Amazon Fresh
Get your groceries delivered directly to you in less than 2 hours with Amazon Fresh. You may also have an Amazon Fresh grocery store local to you that you can shop and check out at without going through a checkout line.
5. Buy Items on Amazon and Sell them on eBay
If you don't have a use for your Amazon gift card, buy products in hot demand using your gift card and then sell the items on eBay when they are no longer available. You'll make a profit on the deal.
Where Can't I use Amazon Gift Cards?
While your Amazon gift cards allow you to purchase thousands of items on their website, including toys from the holiday catalog, pay for groceries (delivered to you), and download books, there are many places you can't use Amazon gift cards.
In-store to purchase groceries
Even though Amazon and Whole Foods are partners and some of your Amazon Fresh deliveries may come from Whole Foods, you can't use your Amazon gift cards inside a Whole Foods store.
While it would seem to make sense to use an Amazon gift card on Amazon Pay or at stores that offer Amazon Pay, only debit and credit cards are allowed.
You can use Amazon gift cards on Kindle, but not Audible. You can only use your debit or credit card on Audible.
Other Retail Stores or Gas Stations
You cannot use Amazon gift cards inside any retailers (or online), nor can you use them at any gas stations.
FAQ – Where can I Use Amazon Gift Cards Besides Amazon?
Wondering if you can use your Amazon gift card at other retailers? The answer is mostly no, Amazon Gift Cards are only redeemable on select Amazon business sites.
Can I use Amazon Gift Cards at Whole Foods?
No, Whole Foods does not accept Amazon gift cards inside their store. The only way to use Amazon gift cards to buy groceries at Whole Foods is to order them via Amazon Fresh to be delivered to your home.
Can I buy groceries with an Amazon gift card?
Yes, you can buy groceries with an Amazon gift card in two ways. You can order them online via Amazon Fresh or Amazon marketplace for dry goods. You can also buy groceries at your local Amazon Fresh store if there is one local in your area.
Can You Use Amazon Gift Cards at Target, Walmart, or Sam's Club?
Unfortunately, you cannot use Amazon gift cards at any major retailers including Target, Walmart, and Sam's Club.
Final Thoughts
If you have Amazon gift cards and wonder, where can I use Amazon gift cards besides Amazon, you have a few options. If you aren't likely to use the money, you can also give them to someone else or even sell it.
Amazon gift card use is limited to what you find on Amazon, Kindle, or Amazon Fresh. Worst case, order some groceries using your card to use up the funds. Everyone needs groceries, so everyone has at least one use for an Amazon gift card!
Delve into our companion article, "How to Buy Gift Cards Using Afterpay," for an in-depth exploration of how Afterpay can revolutionize your gift card purchases with its flexible and convenient payment options.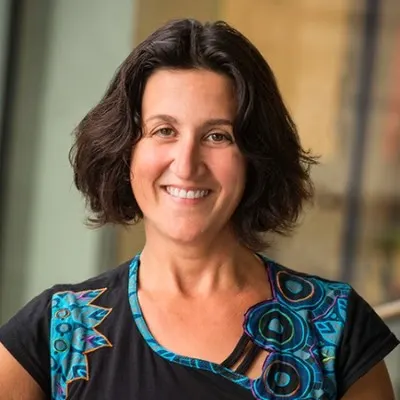 Becky is a seasoned personal and business financial expert with deep experience supporting small businesses. Now the Co-Owner and CEO of Shopping Kim a company she acquired in 2020, she is passionate about educating people on how to use Buy Now Pay Later for responsible spending to achieve their lifestyle dreams.