Disclosure: This post may contain affiliate links, meaning we get a commission if you decide to make a purchase through our links, at no cost to you. Please read our disclosure for more info.
Menards is home improvement store, similar to Lowe's or Home Depot, with over 300 locations in the Midwest which includes Illinois, Indiana, Iowa, Michigan, Minnesota, Missouri, Nebraska, North Dakota, Ohio, South Dakota, Wisconsin and Wyomin. These Menards stores are a big deal not only because they are often the only real home improvement store option in many small towns, but they are also family-owned and are famous for their tagline, "Save Big Money!"
There are lots of secret tips and tricks to shopping at hardware stores for the best deals and truly Saving Big at Menards, especially if you plan on doing any big remodeling jobs such as your kitchen or bathroom or even if you are shopping for power tools and home improvement materials such as paint or furnishings. Here are all of the best tricks of the trade to save money at Menards. Read on to discover the best tips and tricks to shopping Menards 11% rebate sales for amazing deals on just about anything! So read on and discover how to make the most of your shopping experience while enjoying the benefits of great customer service at Menards.
What Are Rebates?
Rebates are discounts on products you buy but usually have require you to do some work before you can get the discount. At Menards rebates are credits that apply to future in-store purchases. Once you make a qualifying purchase you send in a form proving you made the purchase and then you are mailed a credit slip that can be applied to your next in-store purchase. Stores like offer rebates because they increase brand loyalty and are not a guaranteed price reduction. Consumers like rebates because the deals and dollar savings are often much bigger than traditional coupons or in-store sales events.
How Do Menards 11% Rebate Sales Work?
At Menards you can save BIG money with their unique 11% rebate program. Here are the steps to claiming your Menards rebate.
When you make a rebate eligible purchase at a Menards store you will notice at the bottom of your register receipt a unique rebate code. Next go to the in-store Guest Service desk in store and locate the matching rebate receipt code to find the correct rebate form. If you want to do it online simply visit the Menards website and look up your receipt number for the correct code. Fill out the rebate form and then mail it in for processing. You can enter up to 8 receipts per form. Only send in the rebate receipt, keep your other receipts for your own records.
Step 1. Locate Your Rebate Number
Your rebate number can be found on your sales rebate receipt. Note this is separate from your order confirmation or order receipt, you should hold on to both of those as proof of purchase or if needed for a return or exchange.
For Online Purchases: Your rebate receipt is attached to your confirmation email as a PDF.
For In-store Purchases: The cashier will give you your rebate receipt when you check out at the register.
Step 2. Use Your Rebate Number to Obtain Your Rebate Redemption Certificate
Option One: Pick up your certificate at your preferred Menards® store.
Option Two: Visit our online Rebate Center and print your rebate redemption certificate.
Step 3. Mail in Your Rebate Redemption Certificate and Rebate Receipt
Mail in or follow the online submission form to submit your rebate request form. You will receive your Menards® merchandise credit check in the mail.
How Long Do Menards Rebates Take To Process?
Processing takes 6-8 weeks from the date you mail in the paperwork. Once submitted you can track the status of your rebate online by entering your rebate ID on the Rebates International Tracking website page.
Fine Print*
Rebates can only be used in-store for any product purchase. They and are not valid online. The good news is they never expire!
Menard rebates are up to 11% off the purchase price and are not redeemable for cash. They are vouchers to be used on future purchases at any future in-store visit.
*Mail-in Rebate is in the form of merchandise credit check, valid in-store only. Merchandise credit check is not valid towards purchases made on MENARDS.COM. Limited to stock on hand. No rain checks. First come, first served. Future sale adjustments will void the rebate on the items adjusted. Rebate does not extend to the special ordering of any normally stocked items. Not good with any other coupons or offers except Menards® coupons, Menards® rebates and manufacturers' coupons. Multiple receipts may accompany one rebate certificate. Menards® reserves the right to limit purchases of any and all items to reasonable job lot quantities.
Items Excluded From the 11% Rebate
Gift Cards are the major exclusion from 11% rebate at Menards.
In order to know what products are currently offered at the 11% rebate value you will need to visit the store or check the Menards website active offers page for the latest offers.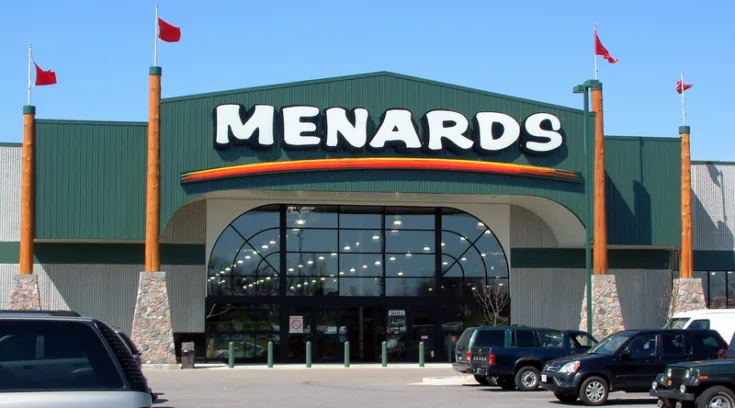 Price Adjustments
If an item that you bought at Menards goes on sale within 14 days after you buy it, you can take in the receipt to get the difference back in store credit. Or if the item would be cheaper with a rebate, you can take in the receipt to return and rebuy the item so the receipt prints. I've actually returned items and rebought them at a higher price because after the rebate, I'd pay less.
Menards 11% Rebate Form
The rebate form can be picked up in person while you are Menards in the Guest Services area.
Online you can submit one universal rebate form or download the form. This single and universal rebate redemption form works for all your rebates! Simply fill it out and mail your rebate receipt and completed rebate redemption form to the address on the redemption form.
You do not need to manually fill out all of the rebate forms. You can affix an address label instead, this is a great use of all those free address labels from charities you have in your office paper pile. If you are printing your rebate forms online, you can enter your name and address in the first rebate form, and it will automatically add your information to all the rebate forms that you are printing.
Then save a stamp and mail-in all your rebate forms and receipts in one envelope (if they all have the same address, and they usually do). I address and mail my envelope of rebates forms to Menards at this address:
Menards Rebates
PO Box 155
Elk Mound WI 54739-0155
Following Menards 11% Rebate Sales Schedule
The 11% rebate offers are not published in advance and there is no public rebate sales schedule, Menards employees are actually forbidden from sharing the deal schedule. That said some patterns do emerge:
11% rebate sales usually run for one week at a time, two weeks in a row and at least once each quarter. If you wanted you could start noting them on your calendar and see if you can predict the next 11% rebate event.
If you bought something right before they released a rebate, keep reading how how to "go back" and get the price adjustment for previous purchase.
How 11% Rebate Price Adjustments Work
If you bought something the week or two prior to the 11% off sale, you can ask for a price adjustment rebate form at the counter. They do not put these out with the other rebates forms, and it is not available on their website, but you can print it here. You can then send in your original receipts (they must be the original receipts and cannot be receipts that you print off at the kiosks) that are dated from the week or two before for 11% back on regularly priced items that you purchased (doesn't apply to sale prices). This rebate form will have a different mail-in address as well, so you'll have to send it in separately from your other rebates.
How Long Do Menards Rebates Take To Process?
Rebates take 6-8 weeks to be mailed back to you so if you sent in a pile of them consider waiting until they arrive in the mail before making your next big Menards purchase.
Menards Big Card 2% rebate
You earn a 2% on all Menards purchases that you pay for with your Menards Big Card (or you can choose 6-month or 48-month financing options instead of the rebate). I do encourage you to pay off your Menards credit card in full every month though if you are opting for the 2% rebate as the variable standard rate ~25.24% will apply which is a really high interest rate! Big Card rebates are sent out quarterly.
Menards Merchandise Credit rebate checks with arrive in your mailbox folded with the dollar amount hidden. The return address will be:
Rebates International
PO Box 99
Elk Mound, WI 54739-0099
Below is a photo of an actual rebate check so you know what to look for. They are small in size (6″ x 4.25″), similar to a postcard, so make sure you don't throw it away or think it is junk mail!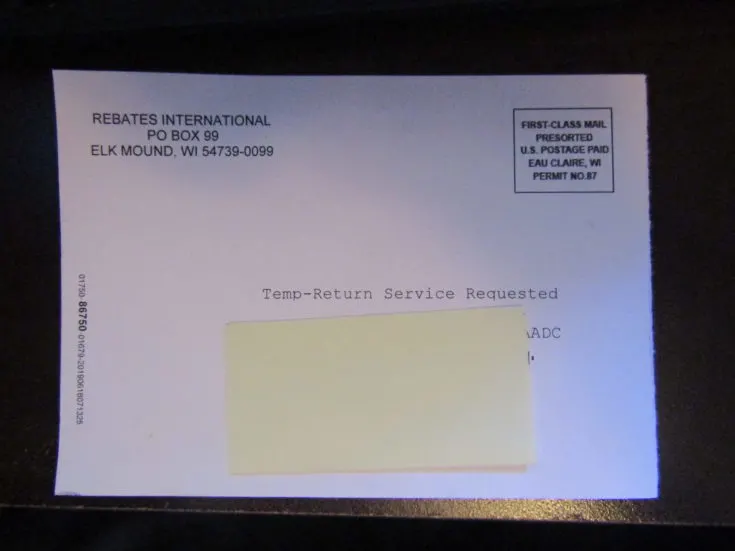 Menards Coupons
Look in your monthly bill for super helpful Menards coupons. Each statement usually contains a "Clip & Save Offers" booklet of Menards coupons for saving big money on various items. Some months they even offer totally free items with a coupon. And if the coupon says "Limit 2", you can get two items totally free; you don't even need to pay sales tax!
If you are a Menards Big Card holder, you'll receive a birthday card during your birthday month with a coupon for a free item! The free item is usually ~$9.99 value and past coupons have been for screwdrivers and magnifying glasses.
Menards also accepts manufacturer coupons that you can combine with sale and clearance prices and even rebates!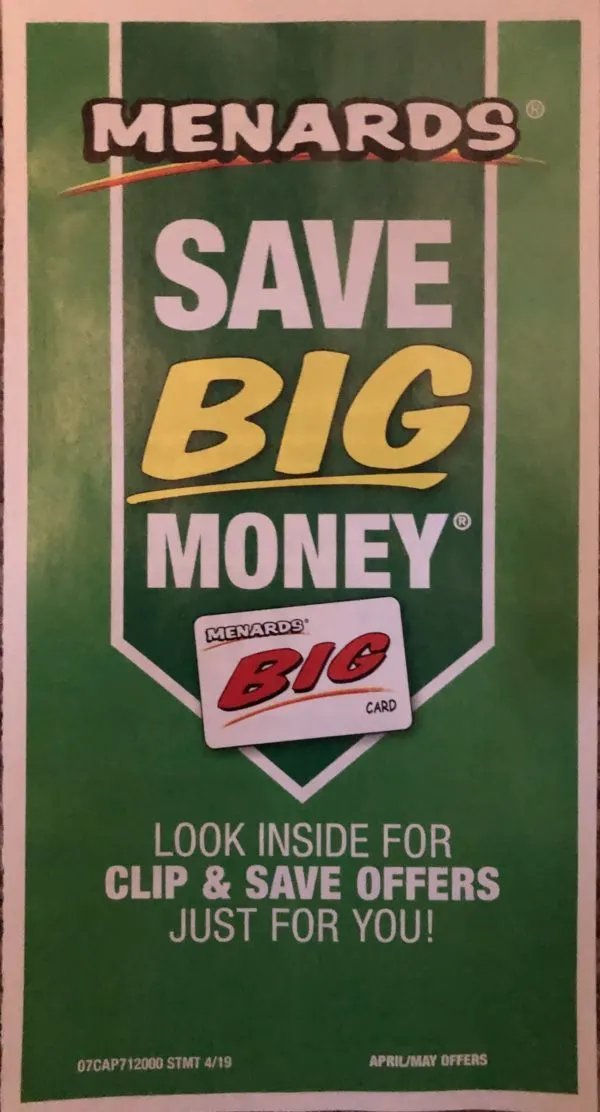 Menards Clearance Sales
Online Clearance
On Menards' website, look under "Ray's List" for limited offers, closeouts, open box and clearance items. You can search by which bargain items are available at your local store(s). These are usually unclaimed special orders, store display models and slightly dinged and/or dented products all priced below retail.
In Store Clearance
Menards has clearance sections all over the store, so be sure to do a full walk-around so you don't miss any hidden treasures. Clearance items are often found in these departments and categories: Appliances, Bath, Electrical, Home & Décor, Kitchen, Outdoors, Paint. Things you can find here include:
Unclaimed Special Orders
Store Display Models
Slightly Dinged & Dented
Here are the extra in-store locations to look for clearance deals:
Table/shelves by front door for small clearance aisles
End racks (not facing main aisle) of each department
Very back wall of store for cabinets and bigger items
Upstairs

Tips for going upstairs, most Menards have a staircase where customers can go upstairs. The stairs are usually in the seasonal/patio department and usually include clearance off-season products. There are usually two sets of stairs going upstairs, and only one is designated for guests and the other for employees. There is also a rumor that they are going to be doing away with letting shoppers go upstairs, so I'll be sure to update if so.
Mistint Paint SectionIn the back of the paint department, there is a "mis-tint" section where you can get quarts of paint for $1 and gallons of paint for $5. These are various colors that either the department screwed up when tinting or the customer decided they didn't want after all. The selection changes daily, and they offer more than just wall paint! Past deals have included Epoxy garage floor paint and deck coating for only $5 each.
Menards Crazy Days Sale
Crazy Days are usually a three-day event where Menards offers really good deals and extra rebates are available, similar to Black Friday sales. 2021 they are calling it Cyber Week and deals will be posted here on the Menards website.
Join our Menards Facebook Group so you are the first know of the next Crazy Days Sale!
SKU Help With Menards Sales Ads
If you see a product you'd like to buy in Menards sale ad but don't know what department to look in for that item, here is a good tip to find items in Menards: The first digit of a Menards SKU number will tell you what department that the item is located in. Here is a list of departments and the SKU digit that they are assigned to:
Building Materials
Hardware
Electrical
Mill Work
Wall Coverings
Plumbing & Housewares
Floor Coverings
Finding the qualifying rebate items and sale items can be tricky so plan to spend some time in the store looking for the best deals. If the items is sold out, you can ask for a rain check, but if it's a rebate item, chances are that the item won't be available in time for you to qualify for the rebate.
5% Tax Refund Bonus
Menards offers a 5% bonus on your state and/or federal tax refund when you exchange your refund for a Menards Merchandise Credit Check.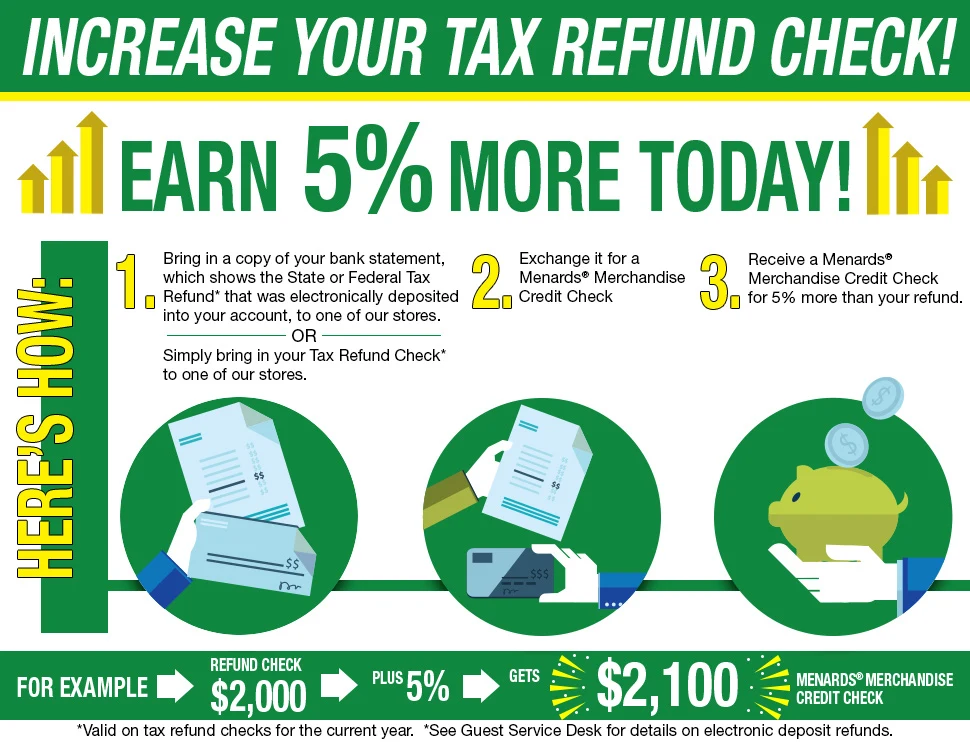 This tax refund bonus offer is valid all year long, so if you got your refund in March, you can still take advantage of this offer in December of the same year! Here's how:
Bring in a copy of your bank statement showing that your state and/or federal tax refund was electronically deposited into your account. Or you can bring your actual refund check if you don't opt for direct deposit.
Exchange that amount (or any amount up to that amount) for Menards Merchandise Credit Check. You can ask them to divide them up into smaller amounts if you are afraid of losing one big amount!
Receive a Menards Merchandise Credit Check for 5% more than your refund!
The tax refund bonus is a great idea if you plan on making any big purchases (and you have a big refund). A 5% return on your money is more than you'll make at the bank! I so wish I didn't have to pay in this year!
Do you have any other tips on how to save big money at Menards?
Join our Menards Facebook Group so you are the first know of new free-after-rebates!
Menards Big Card Cash Back
Menards does offer an additional ways to save with their store credit card, use it and watch the rebates add up to big savings. 2% everyday rebate purchase option with their house credit card the Menards BIG Card. Earn a 2% rebate on all Menards® purchases for savings on future purchases. Rebates are issued as Menards® merchandise certificates. Plus, special offers available only to BIG Cardholders.
New card holders can apply today to get an additional $10 rebate* on the first $100 you spend on your BIG Card®
Menards Big Card Special Financing
Menards does offer a Buy Now Pay Later financing option through their own Menards BIG Card with options for 6 and 48 month financing options. Menards offers a special 6-month no-interest financing on purchases over $299 if paid in full in 6 months**. Interest will be charged to your account from the purchase date at the Variable Standard APR if the purchase balance is not paid in full in 6 months. "We also offer 48-month financing with interest on purchases over $1,500. The Variable Standard APR applies thereafter. Read the fine print and find the current APR rates here."
If the Menards card isn't the right choice for your buy now pay later needs, consider looking at SNAP financing which is available through many small, specialty home furnishings and hardware stores.
Does Menards Have An Affiliate Program or Cash Back Program?
Unfortunately Menards does not have an affiliate program and is does not work with an standard online cash back sites such as Ebates.com, offer cash back or points from ordering from Menards.com. Therefore, I simply recommend using your Menards Big Card online and in stores and treat the 2% rebate as cash back. If you do order online, rebates still apply. You will receive an email with your rebate receipt to submit with your rebate form. You can print Menards rebates here.
Join our Menards Facebook Group so you are the first know of new free-after-rebates!
Menards Free After Rebate Items & Deals
Closed group · 377 members
Menards frequently offers Free After Rebate (FAR) items, some of them unadvertised. This group is to share your Menards FAR finds and deals.

Menards…