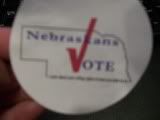 I went and did my civic duty today and voted.  Living in hickville, I got the advantage of no waiting in lines. But my county must also be too cheap to buy real "I Voted" stickers, as the ones they were handing out where definitely homemade from an inkjet printer (see pic left).
My daughter's school held a mock election, and McCain won by 90%. I voted for Obama against my daughter's advisement – not that my vote will count in Nebraska – but I tried. I've gotten a lot of guff in this red state since '64, and I reply with, "John McCain is so old that he won't live through the presidency, and Sarah Palin is not intelligent enough to run the country, so Obama is the lesser of two evils."  No one argues with me after that.  You can watch results on MSN.com and CNN.com (Obama is in lead as I type).
Obviously I didn't get a Mailbox Monday video made yesterday, and I really have no excuse other than time got away from me, even after the extra hour of beauty sleep over the weekend. I'll use the "single mom with four kids" card again.
For those of you luckily enough to live near a Super KMart, they are again having a double coupon promotion from November 12th through the 16th, and then another effective at ALL Kmart stores from November 30th through December 6th!  I live an hour away from both Yankton, SD and Sioux City, IA, so I may call both to see if they are definitely participating, and I'll make the jaunt.  Unfortunately internet coupons will be not accepted.
Get two $5 Kmart Coupons for signing up for Kmart email updates or shop online and receive FREE Shipping on Almost Everything at Kmart.com!
P.S. We couldn't all agree on a group-themed costume idea for Halloween, so we all dressed our separate ways…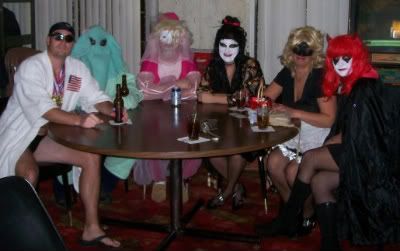 Any guesses on which is me?  Hint, my brother is the one dressed as Michael Phelps, so that's obviously not me. 😉