Disclosure: This post may contain affiliate links, meaning we get a commission if you decide to make a purchase through our links, at no cost to you. Please read our disclosure for more info.
Here are some of the hottest gift ideas for one of the coldest months.
If you have a special someone in your life who was born in January, you may be racking your brain for what would be a good gift for them. January birthday gift ideas are hard to nail down, especially if your birthday boy or girl isn't revealing a wish list. The first month of the year is upon us once again.
While it may be just an ordinary month for some, it may be the birth month of others. If someone close to your heart is celebrating a January birthday this month and you still don't have a clue what to get them, fret no more. Here are some meaningful birthday gift ideas for January birthdays both for her and for him!
If you need to buy a gift for a friend or family member this month, here are some January birthday gift ideas to consider.
January Birthday Gift Ideas for Her
Give Her Something Sparkly
Yes, jewelry is always a good birthday gift idea for her, what woman doesn't love some new sparkly earrings, bracelets or rings! From vintage-style bracelets or earrings to silver necklaces, or totally luxe with gold! Getting the birthday celebrant jewelry with her birthstone is a great idea too.
Birthstone Jewelry Red Garnet
If you want to get the birthday girl something that she will actually use and wear, consider getting her some stylish January birthstone jewelry! January's birthstone is the gorgeous red garnet. SuperJeweler has tons of amazing and chic garnet gold jewelry that she will love from tennis bracelets, to earrings and necklaces. Their garnet stones are the real deal and are completely natural and not treated.
Pampering Experiences
A woman wants nothing then to have herself pampered – just like a queen. You can start off by discovering what spa she often goes to and buy her gift certificates. If you can't do that, you can let her re-create her own spa experience at home by purchasing spa sets, complete with bubble bombs, fragrant soaps, and aromatherapy candles.
Birthday Flowers
You can never go wrong with buying a girl a bouquet of gorgeous flowers. For many women, buying themselves flowers is not an everyday occurrence, so it means the world when someone gifts them a bunch. The bouquets from Bouqs are each perfect for a birthday occasion. The January birth month flowers include the carnation and snowdrop. There is no requirement to put these into your birthday bouquet but it could be meaningful touch.
Zodiac Journal
Play into that new year energy by gifting the birthday girl a custom Zodiac journal from Soothi. Remember, Capricorn birthdays are at the beginning of the month (December 21 – January 20) while Aquarius signs fall at the end of the month (January 21 – February 20).
A Personalized Gift
There's nothing better than something personalized just for you. Get your January girl a custom photo blanket or personalized art from Mimeo. She will feel the love each time she looks at it. Warm-up with your most comforting moments this season. Custom photo blankets start at only $59.99, a reasonable price for a truly thoughful gift!
Something Sweet
If your birthday girl has a sweet tooth, go for a sweet treat. This gift is especially good if your friend claims that she doesn't want anything, since food gifts won't be hanging around for long. The totally unique and delicious cupcakes in a jar from Wicked Cupcakes are a fan favorite, so you can't go wrong with a dozen. They ship all over the country so no need to be local to get these sweet treats to your January birthday friend!
Unique Birthday Keepsakes
Getting her something unique and personalized for her birthday will make the celebration memorable. Compose a list of genuine birthday wishes and have it framed. You can ask the celebrant's family and friends to contribute their wishes as well. That way, you will be able to capture everyone's sentiments and preserve it, as a truly thoughtful gift from the heart!
Co-worker birthday gifts
Need a January birthday gift for a co-worker? Something useful like a personalized mug with a fun and playful quote and some sweet treats make a perfect office setting birthday gift.
Treat Her to A Day Out Shopping
If you think you've run out of birthday gift ideas for her, you can always treat her shopping! Whether it's gift certificates or personally accompanying her out to shop, retail therapy is something every woman would appreciate.
JANUARY BIRTHDAY GIFT IDEAS FOR HIM
Big, Cozy Blanket
January birthdays can be cold, so give your birthday boy the gift of warmth and comfort with a big, cozy blanket. Perhaps even the biggest, best blanket from Big Blanket! Would he prefer a weighted blanket? Big Blanket now offers a 40 LB XL WEIGHTED BLANKET! Yeah, it just got that much better.
For Sports Fans
If your friend is a big sports fan, you can let him call the shots with the gift of sporting event tickets. Gift him a pair of tickets for his favorite winter sports teams from StubHub, and maybe even offer to buy him a beer at the game.
Awesome Socks
Every guy needs socks, and in January it becomes even more important to have nice quality, thick socks. Bombas has long had a reputation for awesome socks for men and women. Gifting him a pair will score you big points.
A Stylish New Wallet
He's going to need somewhere to keep his birthday cash and gift cards! Get your January guy friend a fresh new wallet like the Ekster smart wallets.
Personalized Art
Just like a personalized gift for the January birthday girl, a personalized art gift can go a long way for your January birthday guy. This custom street art map from Mapiful will look amazing in his living room.
Do you have any other great birthday gift ideas you want to share?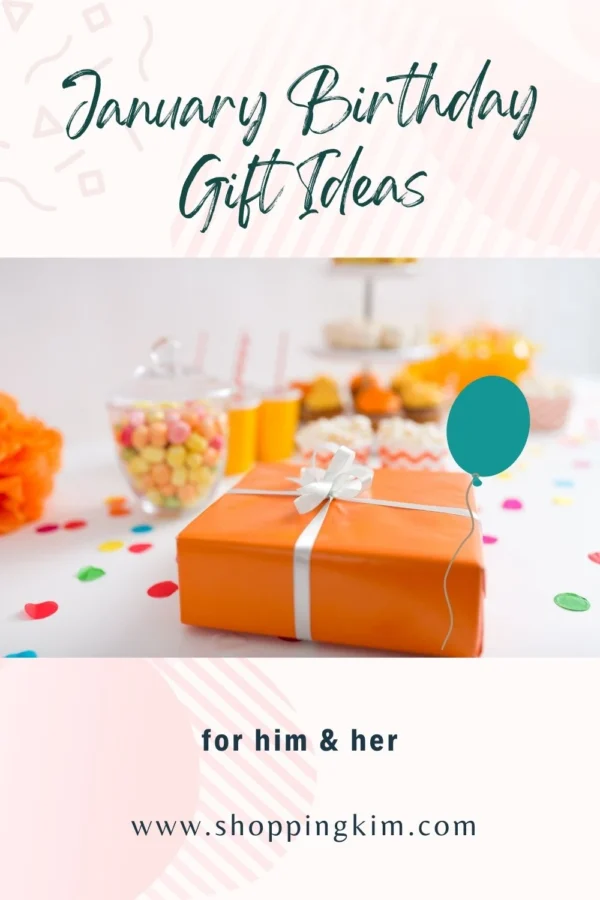 Gift Guides: For Any Birthday
Looking for more unique January birthday gift ideas? Here is a round-up of some of our favorite gift guides.