If you are a Kohl's charge card customer, you probably got a mailer announcing their "Sale into Summer" Sale.  You peel off to reveal your price-lowering power.  The mailer can only be redeemed once instore, but it can be redeemed by anyone online at Kohls.com!  And my mailer was for an Extra 30% off EVERYTHING with promo code: SUMMER30 (valid May 12 – 19, 2010).
Wait, the deal gets better!  Did you know that you can combine sales (they are also currently offering $10 Kohl's Cash for every $50 spent) plus free standard shipping when you spend $75 or more plus they allow two Kohls coupons per order (if two are available).
So here's my top pick…
Fisher-Price Brentwood Baby Collection Swing only $34.99!

Regularly $149.99
On Sale for $49.99
Minus 30% off Promo Code: SUMMER30 ($15)
= $34.99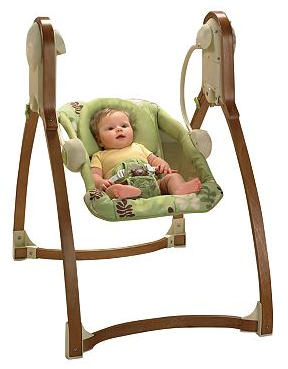 Six swing speeds soothe your baby.
Five songs or five nature sounds appease your child.
Tethered stuffed animal keeps your little one company.
Wood-accent frame complements your home's decor.
Folding design promises compact storage.
This will make an excellent baby gift for my sister's baby shower!
I wish I could have found a free shipping promo code two sweeten the deal, but I'm still shopping, as I'm sure it won't be hard to spend $75 to get free shipping on the entire order.  If I decide to get only the swing, shipping is only $6.95 which isn't really a bad deal either.
What are you still reading here for?!  Get on over to Kohls.com!